Growing up as a 90's kid you must have come across the monthly Hindi magazines like Champak and Chandamama. As a parent of young children do you ever wish that your kid should also have exposure to the beauty of the Hindi language? Let's discover some enchanting collection of Hindi picture books for young readers.
Children's books for this age group should be easy to understand, relatable to readers and creative to engage. They should be funny, have a message behind, rhythmic, may not be all together. There should be a book taking the reader to a new place or talk about bravery, empathy. Even identifying self.
Let's find out 10 delightful Hindi picture books for your young readers aged 2-6 years old.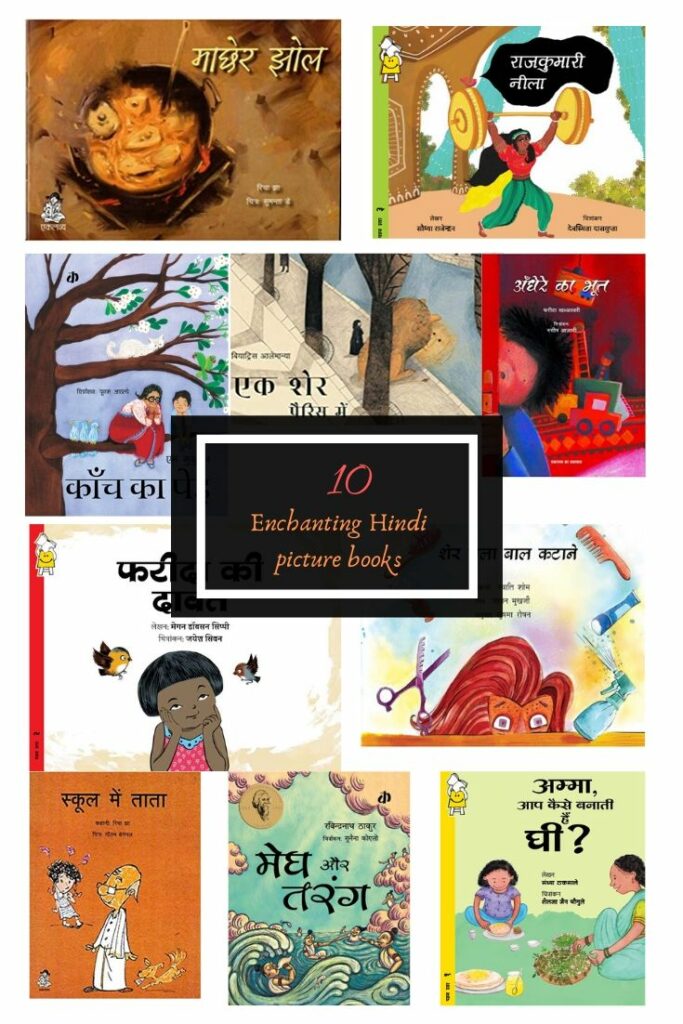 Amma, app kaise banati hai ghee? / Amma, how do you make ghee?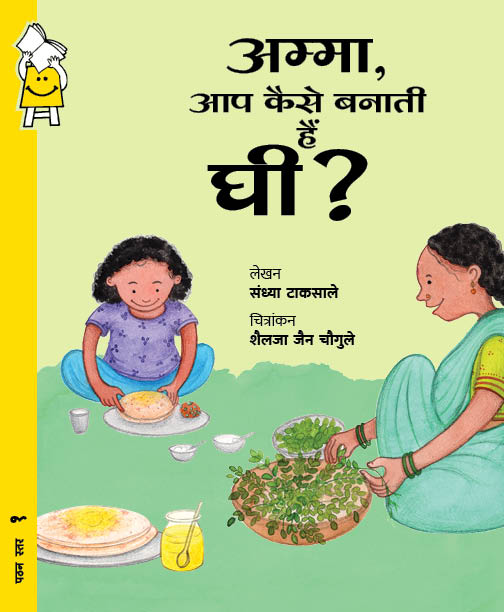 Publisher: Pratham
Reader's age: 2+
Copy: https://store.prathambooks.org/productDetails?Amma,-How-Do-You-Make-Ghee?/9789353095031
Teena loves ghee, especially on her Puran Poli. But where does this Ghee come from?
The story by Sandhya Taksale encourages kid's curiosity. The illustrations by Shailja Jain Chougale captures Teena's enthusiasm. Bonus, it's informative.
Megh aur Tarang/ Clouds and waves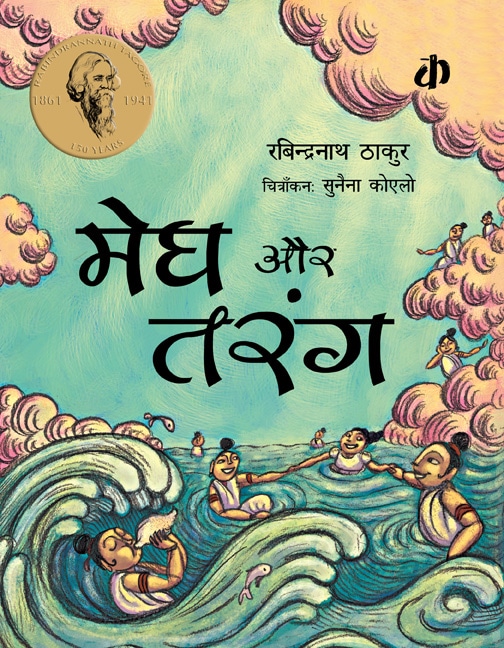 Publisher: Katha
Reader's age: 2+
Copy: https://books.katha.org/product/megh-aur-tarang/
Are you wondering about which poem to introduce your little one? Something other than nursery rhymes. Would you like the pleasing poem by the greatest poet Rabindranath Tagore? Read about the child who refuses tempting invitations to stay with her mother. A gentle verse with caring words for little ones. Illustration by Sunaina Coelho complements the poem.
Farida ki dawat / Farida plans a feast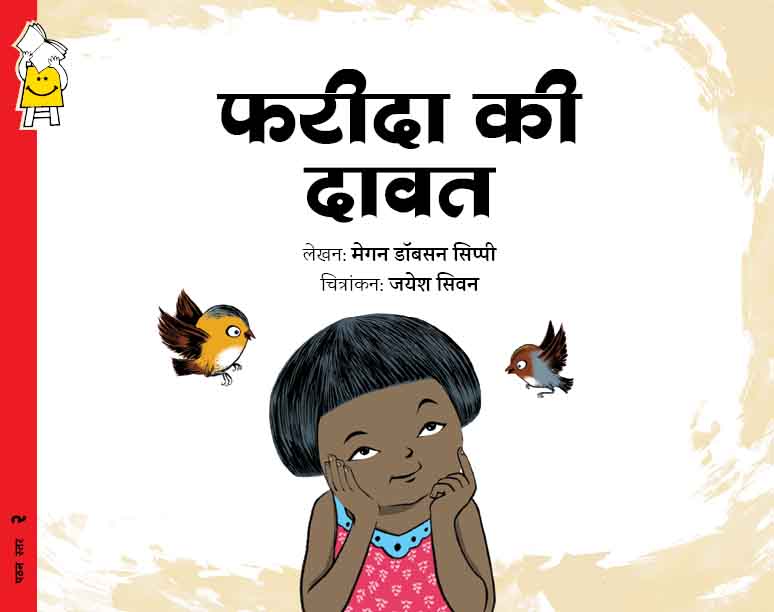 Publisher: Pratham
Reader's age: 3+
Copy: https://store.prathambooks.org/productDetails?Farida-Plans-A-Feast/9789353092313
Farida goes out every evening to collect some food. With a tiffin box and water bottle in hand, she stops to visit her mother, vegetable vendor, and some more. Collecting some uncooked rice, squashed tomatoes, etc. Where is she going with all these items? What is she going to do with all the uneatable food?
An endearing story about a little girl as she cares about creatures around her. Written by Maegan Dobson Sippy and illustrated by Jayesh Sivan the story would make your heart smile.
Ek Sher Paris Mein / A Lion in Paris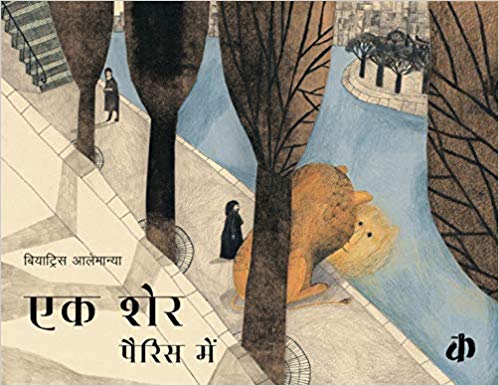 Publisher: Katha
Reader's age: 3+
Copy: https://amzn.to/33x6ITz
A Lion in Paris is widely regarded as the most accomplished book by multi-award-winning children's author and illustrator Beatrice Alemagna. It tells the story of a lion who, bored by his rural life in the savanna, seeks excitement and opportunity in the City of Light.
Upon arriving in Paris, the lion is disappointed to find that despite his size, people barely pay attention to him. Even his ferocious roar on the busy underground Metro was ignored. The beautifully illustrated book conveys the experience of being a stranger in a new city and the course of understanding one's own identity.
Sher chala baal kathane/ Lion goes for a haircut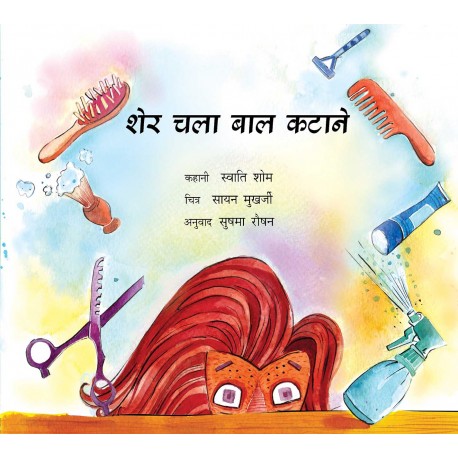 Publisher: Tulika
Reader's age: 5+
Copy: https://www.tulikabooks.com/general-picture-books/lion-goes-for-a-haircutsher-chala-baal-kataane-hindi.html
Come in for a haircut! You choose, we cut! Says the sign outside a hair salon. Lion found that interesting and walked in the hair salon. What happened next?
Join in the hilarious story and the interesting mane makeovers with the illustrations. Also, find out if the lion did get a haircut in the end. Written by Swati Shome and illustrated by Sayan Mukherjee.
Andhere ka bhoot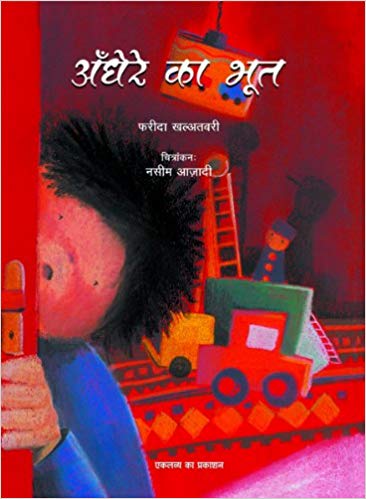 Publisher: Eklavya Foundation
Reader's age: 5+
Copy: https://amzn.to/36OdYgc
A little boy was scared of darkness. He jumps scared even with sight crack of sound. His fear was known in school and he was bullied by other kids. One day he decided to face his fears. What happened next? Was he able to fight his fright? Or is there a ghost of darkness?
The book is written by Farida Khalatbari, illustrated by Naseem Azadi and translated by Deepali Shukla. Simple texts encouraging children to face their fears and even befriend them.
Machher Jhol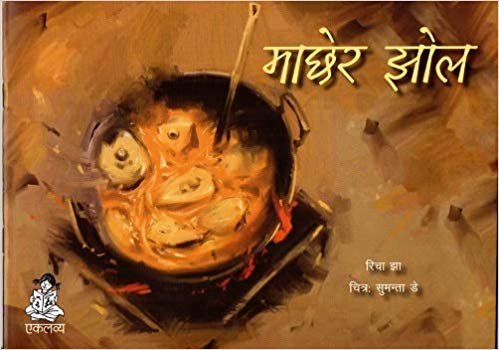 Publisher: Eklavya Foundation
Reader's age: 5+
Copy: https://amzn.to/2CpxpxI
When Gopu's father (Baba) falls sick, he knows he would have to step out alone. To reach his grandma's house to get her cook Baba's favorite fish curry. But he is visually impaired. Yet, he conveys the crowds, the markets and the traffic of the city of Calcutta, all by himself. Does he succeed in bringing the fish curry (machher jhol) home to his Baba?
In this book, Richa Jha writes about the courage of Gopu. As well as the life of a bustling metro city. Sumanta Dey brings alive the city of Calcutta and makes the readers feel they are walking on the streets of the city alongside Gopu.
School me Thatha / Thatha at school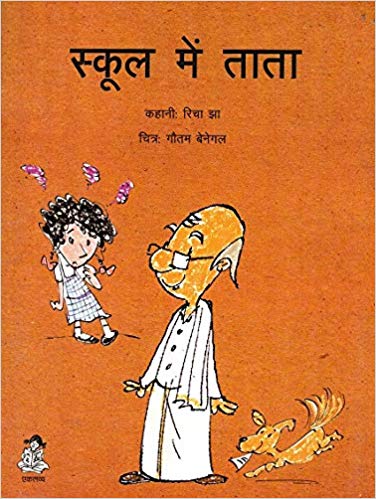 Publisher: Eklavya Foundation
Reader's age: 5+
Copy: https://amzn.to/32ApFDz
Litle Oviyam and her Thatha are invited to school on the occasion of Grandparents Day. Ovi is skeptical to take her dhoti wearing Thatha, whom she considers unfashionable, to her school. She plans several attempts to prevent him from attending the function. Nothing works. She further abandons her grandfather at school premises. But she feels miserable and guilty. Would she be able to introduce her Thatha to all?
The hilarious story by Richa Jha is relatable to kids who love their grandparents yet apprehend embarrassment with grandparents. The book is fun to read and beautifully illustrated by Gautam Benegal. A careful effort to bridge grandchild and grandparent relationship.
Kaanch Ka Ped / The Glass Tree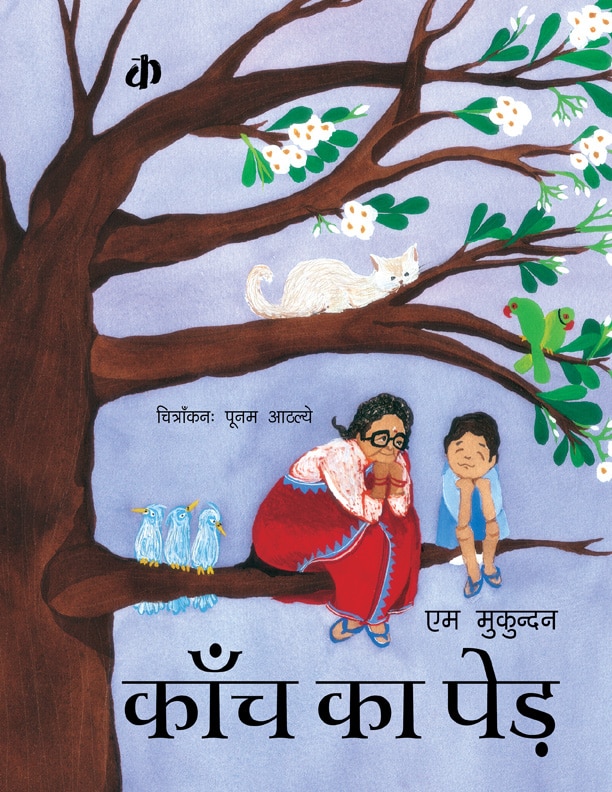 Publisher: Katha
Reader's age: 5+
Copy: https://books.katha.org/product/kaanch-ka-ped/
There is a twist in this grandchild and grandma relationship. Unni tells a story to his grandma. Chief Kuruman Pannikkan worships under a Champak tree, the home to countless birds. One day a stranger from West promises him a tree to worship under, that never dies. Soon the Champak tree was forgotten and replaced by a crafted glass tree. There were glass leaves, glass butterflies and even glass nest. Soon the charm of sparkling glass tree is lost. As the children couldn't play on it branches nor birds could have a nest on it. A subtle message on saving trees.
A delightful retelling of the original prize-winning story by one of the best Malayalam writers, M Mukundan! The illustration by Poonam Athalye is vibrant, beautiful and eye-catching.
Rajkumari Nila / Weightlifting Princess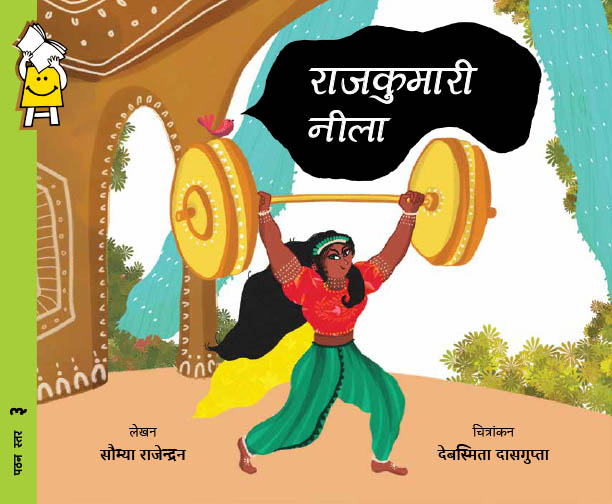 Publisher: Pratham
Reader's age: 6+
Copy: https://store.prathambooks.org/productDetails?/9789353096885
How can the list be complete without an unconventional feminist book?
The dark-skinned Princess Nila dreams to win the Surya Championship, the famous weightlifting contest in her kingdom. Further, she plans to put on weight for the competition. All things challenging stereotypes. But there are so many obstacles to overcome – Parental expectations and a handsome prince who is a champion.
Does she win the championship becoming a Champion? Or choose to be a Champion's wife? Can her aspirations ever normalize?
Written by Sowmya Rajendran and illustrated by Debasmita Dasgupta, the book is breath of fresh air.
Have you read and loved any of the Hindi picture books mentioned here? Do share.
---
*The post is not sponsored, but it contains affiliate links. When you purchase a copy of the book through my link, I earn a small fee at no extra cost to you. Please support my blog by purchasing through my link!