How do you feel when you meet someone who inspires you? One who is creating a new path? Okay, the person here is not someone who is working on rockets but yet I admire her no less. New parents are often lovingly warned how life is going to change forever. No more movies, no travel plan or even date nights. The author here took a chance to change this notion of traveling. Traveling after motherhood with a kid. Yes, you might have guessed by now. I am talking about Neha Sharma, author of "Travel India with a Toddler".
You can find my book review of her work. The books would surely give you a push to plan a vacation right away. Especially if you have a kid and haven't planned any trip post-baby. Neha shares her parenting journey in her blog "Growing with Nemit". Do check out her page to get more insights.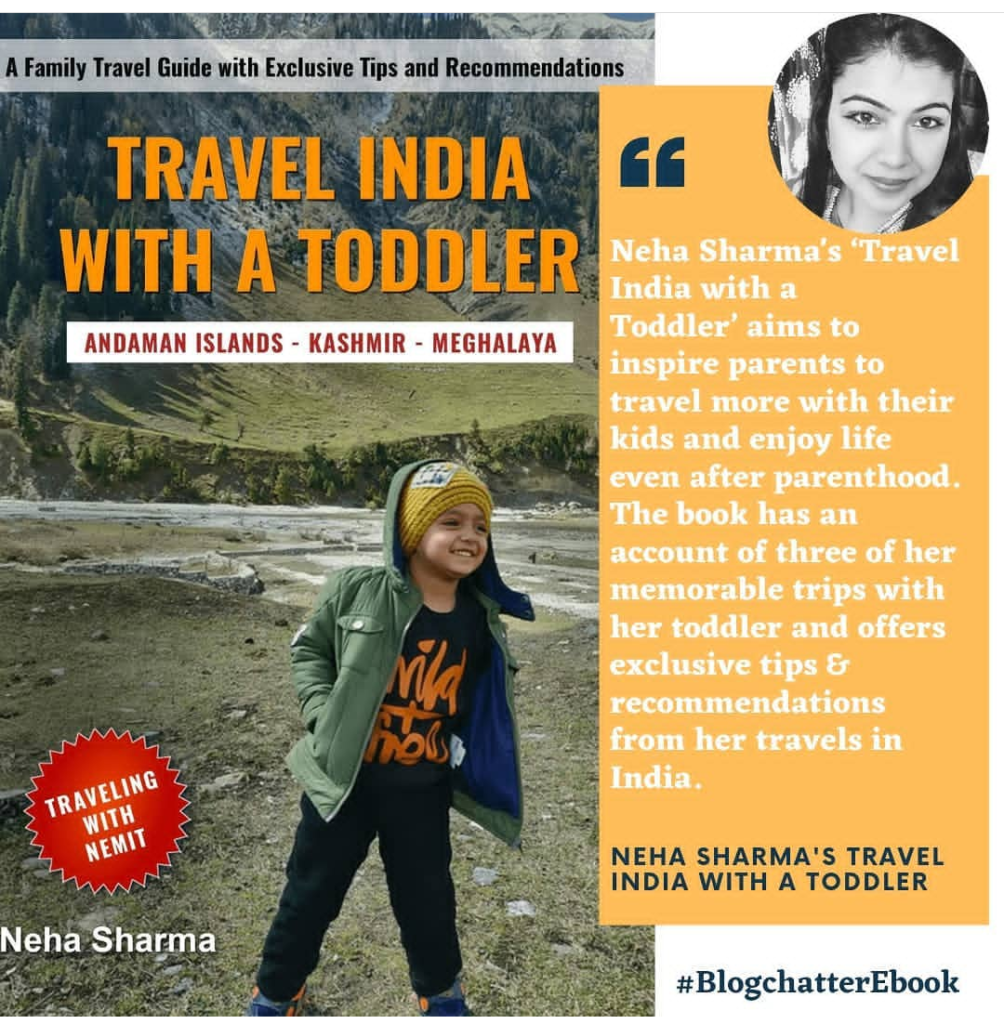 Without any further ado, let's meet Neha and congratulate her on her successful eBook launch.
Neha: Thank you so much Pragnya. I am really thankful to you for giving this opportunity to talk about my debut eBook with you and your readers. All this means a lot to me. Thank you once again.
Me: How are you feeling? Is the josh still high? Or taking deep breaths?
Neha: Thrilled beyond measures. It all feels like a beautiful dream, publishing a book was nowhere in my plans. It took me only 10 days to add a new feather to my cap. All this is quite unbelievable for me, it feels as if I am living my future life in the present. It's a moment of pride for me and my family (I can't overlook their support and efforts which had gone into this big achievement). Yes, the josh is still high however it's not that aggressive the way it was 15 days back but it's definitely going to stay. Right now, I'm focussing on 'what next'.
Me: How did you get into the idea of writing this book? Was it planned for months or it was a spontaneous one?
Neha: Oh, it was totally spontaneous. As I mentioned above, writing and publishing a book was nowhere in my plans not even in my dreams. I won't lie saying 'one of my biggest dreams came true' because I didn't dream that. All my attention was only towards my blog, I just finished the A2Z challenge with Blogchatter and then took a mini break while the whole Blogchatter community was abuzz with excitement to publish their eBooks. I couldn't ignore the enthusiasm, that thrill engulfed me too and I joined the bandwagon to convert my A2Z travel posts into an eBook. I literally had only 9 days in hand to bring out a book out of my blog posts. And, that's how 'Travel India with a Toddler' happened!
Me: What or rather who inspired you?
Neha: Blogchatter is one blogging community which I follow wholeheartedly. They are my biggest inspiration if it was not the push from the Blogchatter Team by means of posts and e-mails to go for publishing the eBook I wouldn't have done it. All the excitement and enthusiasm in the community we saw was the result of the Team's efforts. Blogging is a very new field for me, Blogchatter has shown me a way to dream and to go after those dreams.
Me: Authors are supposed to be little ignorant of social media tricks. While I know you excel there? How did that happen?
Neha: Before being an Author, I was a blogger and I was using social media to connect with my audience, readers, and friends, now we have got some fans too. When I started blogging, I did thorough research on how to blog successfully and every article I read had mentioned about promotion. Writing a blog and not promoting it to reach the right audience is a blogging disaster. So, I focussed on Instagram & Facebook from the beginning of my blogging journey and used it appropriately for blog promotions and making connections with my readers. When it came to promoting my eBook, I used the same techniques and voila it did well.
Me: How often do you write?
Neha: I want to write daily if not on my blog then at least on social media or just on a word doc. Putting my thoughts in words make me really happy but not everything that I write is meant for sharing or reading (sometimes I just write for myself). So, if I talk about writing on my blog, I try to follow a posting schedule of 4 posts per month which I know is not a very good number but am working on improving it to 8 posts per month. And, 10-12 posts on social media.
I hope this interview aspire upcoming authors and bloggers. Also, you got a chance to know about the author Neha Sharma a little more. You can still grab a copy of her eBook Free for a limited period here.