Things people do in the name of love. That was our first thought as we entered Bibi ka Maqbara, the mesmerizing monument. While I can go on saying about the lovely evening we spent, it would be unfair to ignore the story behind the monument. Every stone has a story to tell. Right?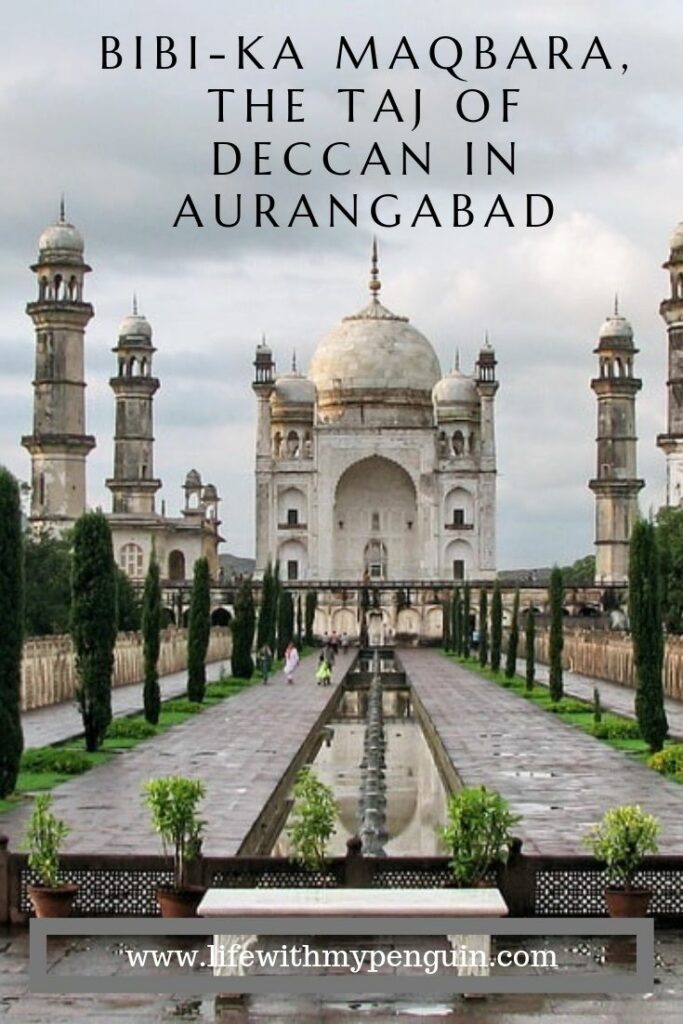 A story to recall
When Mumtaz Mahal died after childbirth, Shah Jahan was dejected. Apparently, after her death, he went into secluded mourning for a year. Years later the world found a symbol of love in "Taj Mahal". Shah Jahan loved his wife immensely and made the glorious Taj in her remembrance. We all know it. After all, it is one of the wonders of the world. It took 12 years to complete the plinth and tomb. Another 10 years to complete remaining parts of the complex. The Taj Mahal was designated as a UNESCO World Heritage Site in 1983.
Do you know the construction of Taj took a toll on Mughal empire's economy? Also, Shah Jahan was overthrown and locked up by his son Aurangzeb soon upon its completion.
Years later in 1660 the same son, now Emperor Aurangzeb, had commissioned a mausoleum in Deccan. The beautiful Bibi-ka-Maqbara was created in memory of Rabia-ul-Durrani Dilras Banu Begam. Aurangzeb's first and chief wife. She was also the favorite one.
Dilras Banu Begum and Mumtaz Mahal share few similarities. Both died due to childbirth, both were their husband's favorite and both got a beautiful mausoleum as a memory.
Bibi-ka-Maqbara
Last year, 2018, we celebrated our 10th anniversary by having a trip to Aurangabad. We explored the caves of Ellora, took blessings at temples and did touristy. It was a 2-day trip with a toddler and my parents. Locals suggested going caves and fort during the daytime. Leaving only one evening to choose between Khuldabad or Bibi-ka-Maqbara.
We choose the latter. Moon was in glory by the time we reached there. We didn't have many expectations with the monument. We have read in guide books about it being a poor imitation of Taj. Yet the history buff in me was excited to have a look. Others (read my husband, Mr. Fabulous) were practically dragged to be here.
As soon as I entered the gateway, I was lost in admiration. For the ones who have seen celebrities clicking a picture with the gorgeous Taj Mahal in backdrop might feel surreal here. Being way past sunset it was less crowded creating beauty in its silence. It was as if the mausoleum was asking, am I just an imitation or something more?
True, the structures do have a striking resemblance. Yet it has a grace of its own. A splendid memorial.
From the gateway entrance till the plinth the oblong water bodies were left dry. A wise thought considering the need for water conservation. The mausoleum is built on a high square platform plinth with four minarets at its corners. Each approached by a flight of steps from the three sides. Up to the dado level, it is encased with marble. Above construction is done in fine plaster till the base of dome which is again made up of marble. Making the structure topped by a marble dome with walls of plaster. An octagonal marble screen encloses the tomb. The interior decoration is quite simple again if compared with Taj Mahal.
It never had heavy skimping on marbles or precious semi-stones. Maybe because when Azam Shah worked on it under Aurangzeb's orders budget was a constraint. While the construction of Taj Mahal cost is estimated to be about 32 million INR. Bibi-ka-Maqbara was built under the 700,000 INR. Making it the poor man's Taj.
Also, Shah Jahan was keen in arts, literature, and architecture while that never interested Aurangzeb.
An inscription found on the main entrance door mentions that this mausoleum was designed and erected by Ata-Ullah, an architect and Hanspat Rai, an engineer respectively. Interestingly, Ata-Ullah was the son of Ustad Ahmad Lahauri, the principal designer of the Taj Mahal.
In 1803 AD when Aurangabad and the Marathwada area were annexed by Nizam Sikander Jahan. He was captivated by the Maqbara. He even planned to shift the Maqbara to his capital, Hyderabad. He even ordered the dismantling of the structure, slab by slab. Later, he had a premonition of some disaster which might befall him were he to harm the existing structure. He stopped the work and as a penance got a mosque built, which still stands to the west of the main structure.
Today Bibi-ka-Maqbara is a principal monument of the historic city of Aurangabad. It is also called as The Taj of Deccan for its beauty and elegance.
How to reach
Bibi Ka Maqbara at Begumpura is 4 km from Aurangabad city. It can be reached by State transport bus or private taxi.
Entrance fee
Bibi Ka Maqbara ticket price is Rs 25 for Indian citizens and Rs 300 for foreign tourists.
Timing
Bibi Ka Maqbara is open on all days of the week between 8 in the morning till 8 in the evening.
Have you ever been to Aurangabad?
---
This blog is a part of the #WeeklyBlogHop hosted by Alpana and Neha. I would like to thank Priyal for introducing me to this blog hop and would further like to introduce Aditi to share her thoughts.