Penguin my son is 2 years old. He loves raiding the kitchen, banging vessels, pretend cooking all day, jump on puddles and dance. Few well-meaning neighbors of mine are really worried about how he loves to help me around the house, put on a bindi (sticker), wears pink and carry his dolls around. Politely (no sarcasm intended), I am often advised how my boy acts more like a girl than a boy. And every time, I try to say HE is FINE. No worries.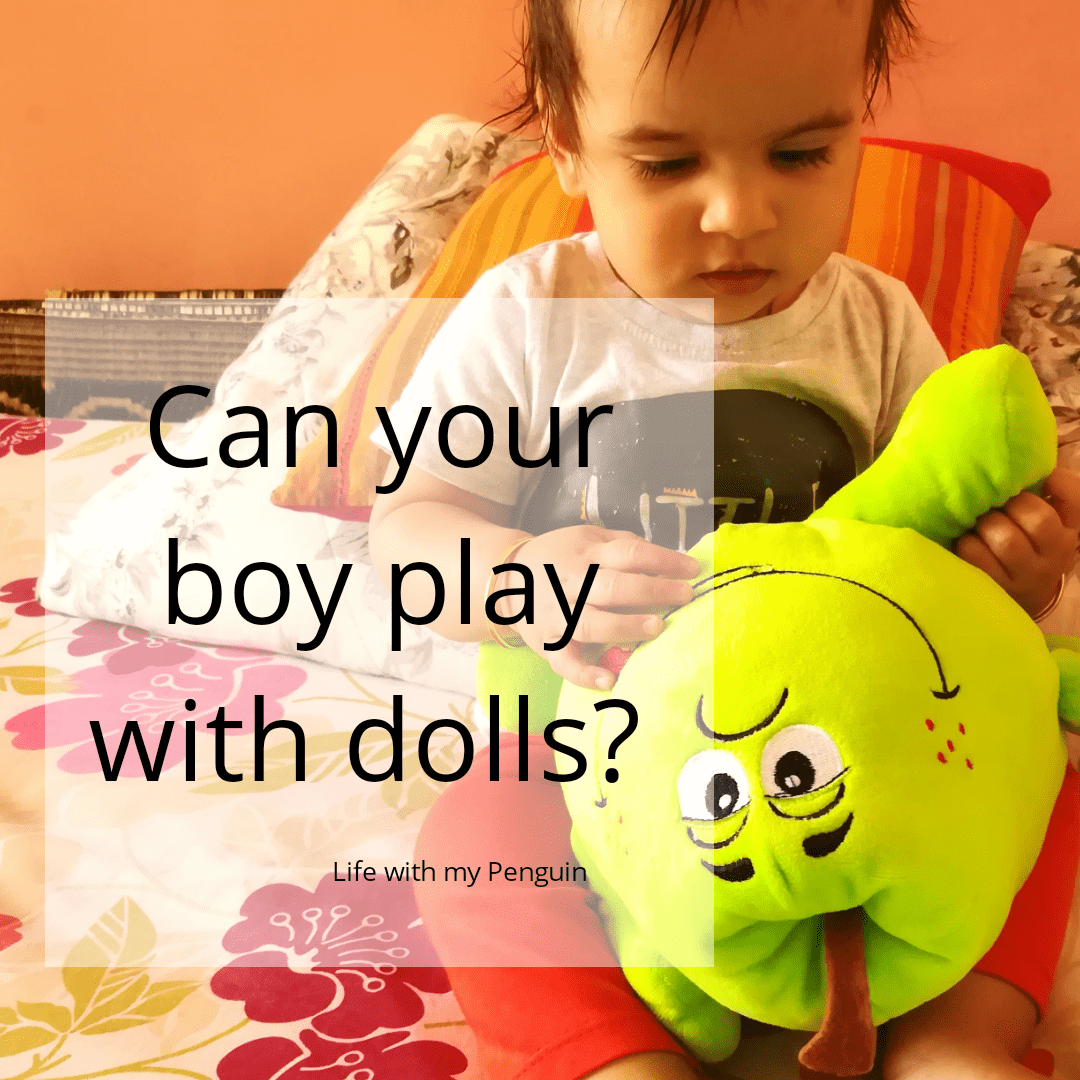 While, we all are screaming gender equality and rise in feminism, talk about breaking that glass ceiling and all. Most of us, tend to focus more on raising brave girls. And I really appreciate that thought. My parents raised me brave, I fight my own battles. Meanwhile, we don't realize how our boy's softer side given a total miss by parents. Just like Bollywood and romantic genre books, the good girl falls for brooding men. Men are praised for their macho manly side; how strong they are. Honestly, even I was crushing over that tall-dark-handsome angry-young-man all my teen days. Once after marriage or getting in a relationship, the same brooding man who was charming becomes dull. As a partner, we complain about how he never communicate, never helps in the household or fails to provide emotional comfort. We blame each other, as we get burnt out regularly.
I am raising a boy on this side of the world where a 2-year-old is judged for playing a doll. Here, let me try to address the benefits of playing with doll irrespective of gender.
Foremost, here let me say it loud and clear, Penguin is free to choose any toy. I don't have to force him to play with dolls. It is a matter of choice and liking that we act on. For years, we have seen and taught that trucks and guns for boys while dolls are for girls. Our perceptions are colored that way. That thinking needs to be changed.
Emotional literacy
Emotional literacy involves recognizing and expressing one's feelings. Children are learning to understand their emotions. Accepting emotions and responding right to strengthen their emotional intellect. Recognizing signs and talking about it helps the child a long way.
Giving a boy a doll to play brings out the nurturing side in them. The doll can bring out the caring side of boys and show out a reflection of fatherhood. Is that too much to digest? Well, they would eventually play fatherhood in life too. Just like girl show characteristics of maternal instincts, boys do show a paternal side too. The empathetic side of character evolves well with doll play.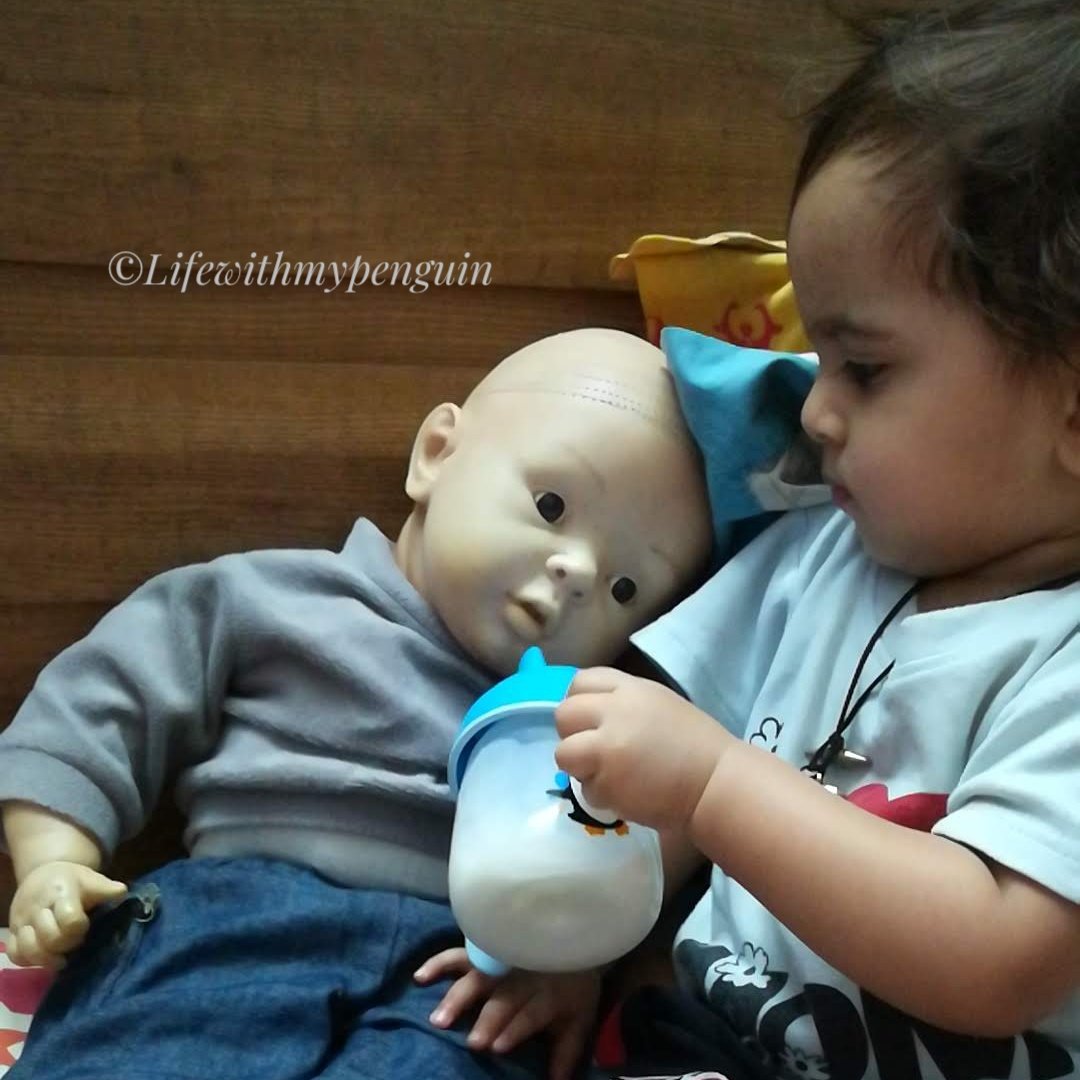 Imagination
Most mornings after breakfast Penguin gets busy to feed his dolls. All are lined next to him and he would cook something from his kitchen set and feed them all. At times, they get dressed up and listen to a story with us. I feel happy to watch how Penguin brushes their teeth with a spare one and even take them on rides.
This doll play enhances his imagination power. I can note his growing vocabulary and social skills with toys and dolls.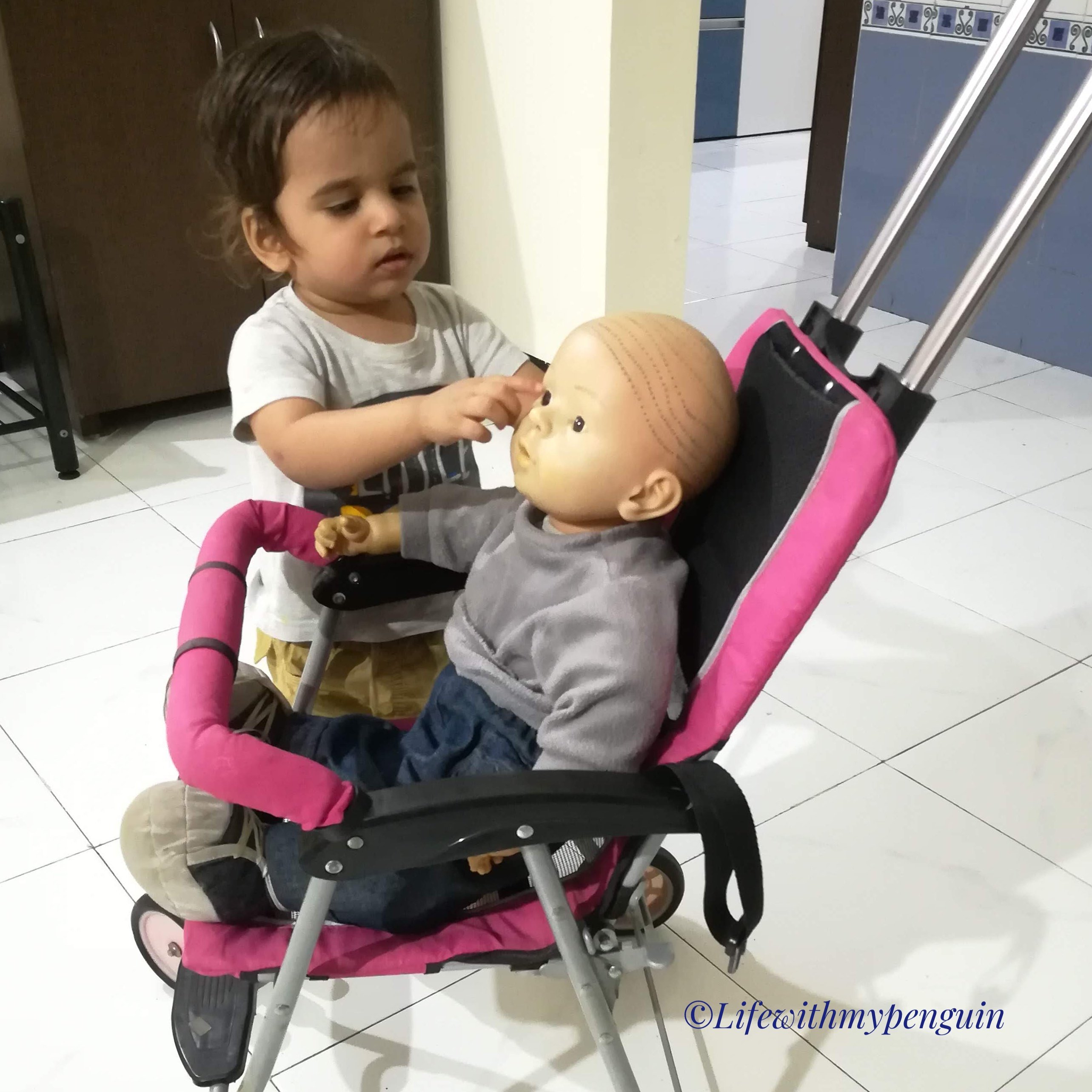 Comfort
We just reached the phase where the favorite toy/doll accompany us to grocery shopping, doctor visits, and parks. Though the list keeps changing, I like how my toddler seeks dolls for comfort. Many parents claim how their child sleeps tugging his/her beloved doll sleep during nights. Dolls become companions, comfort givers.
Will each boy respond to dolls equally? No. The intensity of love and care would vary with every child. Remember, how each of us is so different individuals, ditto for our kids.
Now tell me – Should a boy play with dolls? Or let me re-phrase it can a boy play with a doll? What are your thoughts now? Share me your thoughts.
This article is written as a part of SuperBloggerChallenge conducted by Healthwealthbridge.com , Allaboutthewoman.com and powered by Instacuppa and should not be repurposed, republished or used otherwise. The content herein is owned by the blogger. SuperBloggerChallenge is not responsible for any infringement caused.