When one thinks of a serene place on Earth, it is Kashmir. The picturesque beauty holds spectators spellbound. Kashmir is known yet unknown to us. More of the latter part. The culture and traditions are acknowledged by less population. Surely lot of us are unaware of Niti stories too. Here comes a book about a princess who fights against evil forces heading towards apocalypse, Dawn the warrior princess of Kashmir.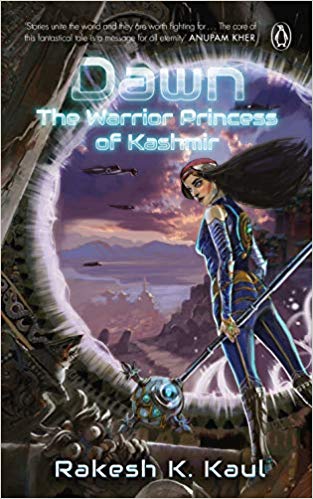 Book: Dawn: The Warrior Princess of Kashmir
Author: Rakesh K Kaul
Publisher: Penguin Random House
Genre: Children's book | Science Fiction | Traditional stories
Reader's age: 14 years +
Get your paperback: Amazon
My take on "Dawn: The Warrior Princess of Kashmir by Rakesh K Kaul"
On Dawn's 16th birthday she encounters two strange beings. They urge her to fight the Troika and state the claim of being the long-lost princess of Kashmir. The malicious trio – Dushita (overlord), Alman (AI machine) and Arman (cruel leader), have manipulated history, the human mind, and Niti stories. They rule over the world heading towards the Great Apocalypse where women are killed and men have lost souls.
In this masterpiece work of Rakesh K Kaul, he attempts to weave a futuristic world that originated from the once-flourishing Kingdom of Kashmir. Add on metaphysics, time travel, technology, and mystical essence.
If you are expecting a quick read looking a 250 or so page. Hang on! This book is deep. A reader would take time to absorb the wisdom woven.
Though this book aims for the younger mass above 14 years if you like sci-fi mystical books do give this one a read.
Rating 3.5/5
---
You might like – The Secret Commonwealth (The Book of Dust, #2) by Philip Pullman – Book Review
---
*The post is not sponsored, but it contains affiliate links. When you purchase a copy of the book through my link, I earn a small fee at no extra cost to you. Please support my blog by purchasing through my link!
*Thank you Penguin Random House India for trusting me with an honest book review.
Image source – Amazon.