How do you choose a book? Maybe by genre, author, recommended by someone or somewhere. At times to upgrade our skills, adopt a new habit, the self -help ones. Then the book in conversation today would be a humorous surprise for you. Of course, by the name of the author few of you might have guessed what to expect. Naomi Datta's "How to be a likeable bigot" is a work of wit.
Title: How to be a likeable bigot
Author: Naomi Datta
Publisher: Penguin Ebury Press
Genre: Non-fiction
Get a copy: Paperback | Kindle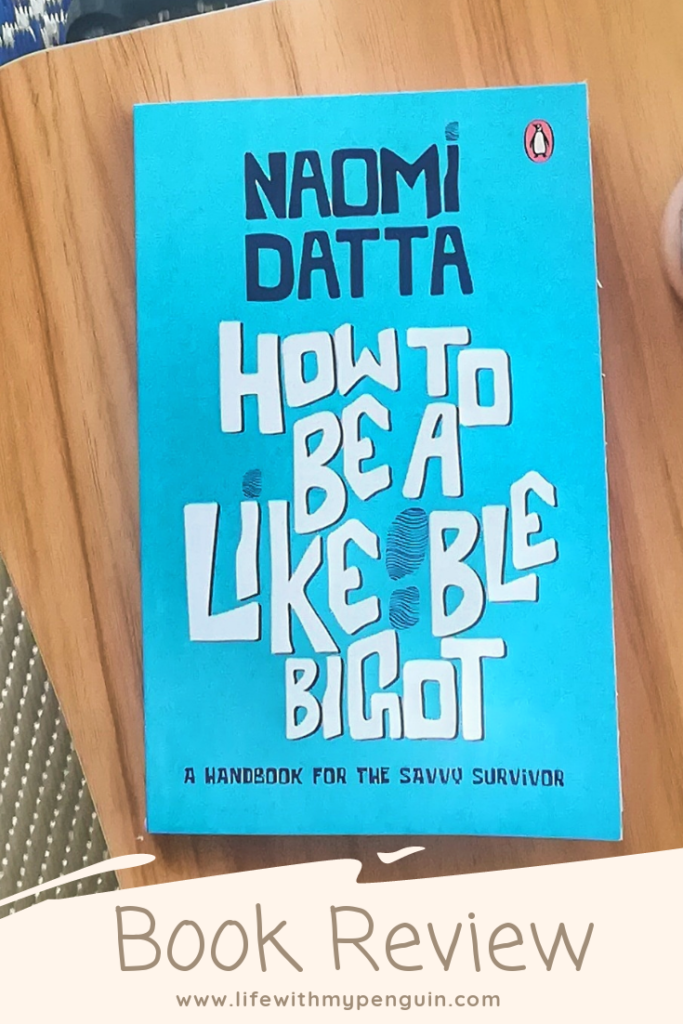 Blurb:
Do you wish to learn the craft of cracking woke jokes? Or spend all your time on social media and yet give an illusion of productivity?
In this collection of satirical essays written in her daft, inimitable style, Naomi Datta teaches you how to survive various situations – from befriending tiger moms to avoid getting pink slips – simply by being 'ordinary'.This is a book that celebrates conformity and tells you how to be perfectly regular, blend in and ace the game. Survival is a fine art. And the only skill you actually need. This book will hold up a mirror to all of us, and we may not like what we see.
My take on "How to be a likeable bigot":
As mentioned in the blurb, in this collection of satirical essays, the author takes a dig navigating diverse spheres of life settings office, social media, family ectara. The book is not a self-help, rather an anti-self-help.
The idea of survival is to remain ordinary, shallow and avoid the spotlight. Blend in the crowd and remain forgettable. Largely. After all, that's only skill most need, right? Uncomfortable, now are we? This book will try to hold up a mirror.
The essays are examples of excellent commentary. It illuminates the bigots, that we often find in office-office setups, parent-teacher meets or groups, moving to newsroom real and social environment on and offline. In the end, the parallel universe most of us dream of living without any reality.
Datta's writing is distinctive and adroit. She chooses her words quite smartly to bring out the twinkle in the scenario.
As a reader, you would like the tongue in the cheek moments. Correction, the entire book is sarcasm dripping. Might mentally try pointing out to people you know who do behave likewise and end up facing a mirror. The cycle would take some rounds of finger-pointing. Even disagreements.
Essays like one on Kangaroo dad might hurt the feelings of many new fathers who do try fit in expectations of the parenting jungle. But again, this is not a self-help book. Each judge of their own will, intentions, and actions.
The book "How to be a likable bigot" by Naomi Datta is an entertaining one. People who can handle sarcasm would be charmed; others might not be able to appreciate the worth. A notable book of 2019.  
Cover:
The witty book does own a quirky cover. Designed by Neelima P Aryan, it does attract a reader's attention without giving away a hint on the content inside.
Rating: 4/5
---
You might like – Across the line by Nayanika Mahtani: Book Review
---
Thank you Blogadda for trusting me for an honest review. This review is a part of the Book Review Program for Indian Bloggers.
The book review is sponsored, but the views are unbiased. The post contains affiliate links when you purchase a copy of the book through my link, I earn a small fee at no extra cost to you. Please support my blog by purchasing through my link!