Parents love their child regardless of birth ways. An adoptive parent enlarges their heart and loves their little one. The later ones also need to reinforce a positive feeling allied with the word, adoption. Feeling about the adoption form a child's sense of self-worth and respect. A child would be curious to know "Where do I come from?"  Answering that question carve their identity. Many parents understand the importance of talking about it. Few might feel clueless about how to start. For them and others, here is a book to read for your child. In my heart by Nandana Dev Sen illustrated by Ruchi Mhasane.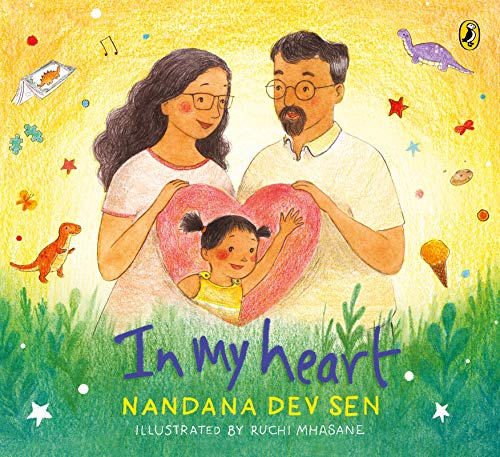 Summary:
Mia knows that she came out of her parent's hearts. Later she learned about her tummy mummy and want to find her. She asks people around her if anyone knows about her tummy mummy. Mia's search will take her to many places, only to lead her someplace even bigger.
 You might like to read "Book review – Coming Round the Mountain by Ruskin Bond".
Book review: In my heart by Nandana Dev Sen
The story covers family born out of love and deeply connected. The little curious Mia is the face of kids who are surrounded by similar questions.
While discussing adoption is often ignored or hushed in our society, the book is a brave attempt encouraging to talk about it. The approach to the topic of adoption is heartwarming and celebrating. The book becomes more endearing as it touches the extended families too.
The dynamics of the family and the other support system nurture Mia lovingly and helped her embrace her identity.
Warm illustrations add depth in every page. It just embraces the reader.
We need more books like this. This would be helpful for young children, parents, extended family, and other social circles of any bonded by heart family.
Rating: 5/5
Age appropriate: 5 – 7 year old