As a child were you ever scared of mathematics problems? Many kids are still dreading about it. But does the poor subject deserve such fear when it is actually fun? The book Let's do it together can help you.
Do you know maths helps make sense of the world around us? How much? How many? How far? How small?
Strengthening the basic of mathematics is much needed and an early start would be appreciated. How can you help the kids then? Solution – Storytelling.
Yes, you read it right. Use storytelling for problem-solving. Make a story, involve the kid and solve a mathematical question. Still clueless?
Let's do it together by Lubaina Bandukwala and Vineeta Kanoria, and illustrated by Zainab Tambawalla has maths stories to solve.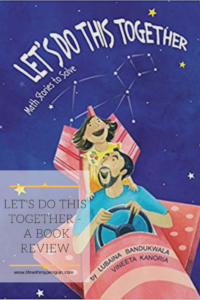 Blurp:
How many mangoes are needed to make a jar of pickle?
How many toes does the monster under the bed have?
How many days till new moon?
Let's do this together is filled with stories that cleverly weave everyday maths problems into the narrative so children can easily solve them with the help of a parent, teacher or friend.
As they start with sums that are easy-peasy, move to mostly easy and then to ones that are not that easy. The book helps them build their self-confidence and number proficiency.
Let's do it together – Book Review:
The book focuses on learning through storytelling. An adult can narrate the story. Beside bringing solutions together with the child.
The book, Let's do it together, is skillfully curated with an increasing difficulty level. There are stories that would catch the young reader's attention instantly. The illustrations complement the stories. The pages with nature-inspired illustrations fetch out on nature's mathematical patterns. Like a 5-pointed star in apple core or spirals found in seashells.
What a fun way of learning! The child is eager to solve the ending of each story and actually work on a sum! Enhance the child's reasoning skill and problem-solving attitude.
Appropriate for 5-year olds the book is highly recommended to encourage expertise on maths. Bonus, bond with the child as you introduce mental mathematics too.
Rating 4 stars on 5
Genre: Children's book | Early learning
Reader's age: 5 – 9 years
Get your copy – Paperback
---
You might also like Shrilok Homeless the ultimate adventures Volume 2 by Pika Nani.
---
Disclaimer – Thank you Penguin Random House India and Puffin Books for trusting me to deliver an honest review.
I am taking my blog to the next level with Blogchatter's #MyFriendAlexa.