I have read few books penned by Rujuta Diwekar donning parenthood. I really do appreciate the efforts she takes on encouraging going back to roots. Her 12-week fitness project is a huge hit and I try following her philosophy. So, when her recent book "Notes for healthy kids" was launched I was eager to get one.
To me, she is one of the nutritionists who stick to ancient wisdom in modern life.
Blurb
The book is said to be Rujuta's most important book till date. An attempt to future proof the health of next generation. It focuses on clearing the underlying food confusion that leads to endless diet trends. It empowers kids to make the right food choices for themselves. Rujuta also calls out the food industry for targeted and misleading advertisements, as well as policymakers for failing to protect the interests of our children.
On the practical side, the book combines the latest in nutrition science with the time-tested wisdom of our grandmothers and offers easy-to-follow advice for all aspects of a child's life. Includes food guidelines for Age-group 0-15 years, School days, Holidays, Parties, Sports, Obesity, Low immunity, Diabetes, Fatty liver, Frequent illnesses and much more.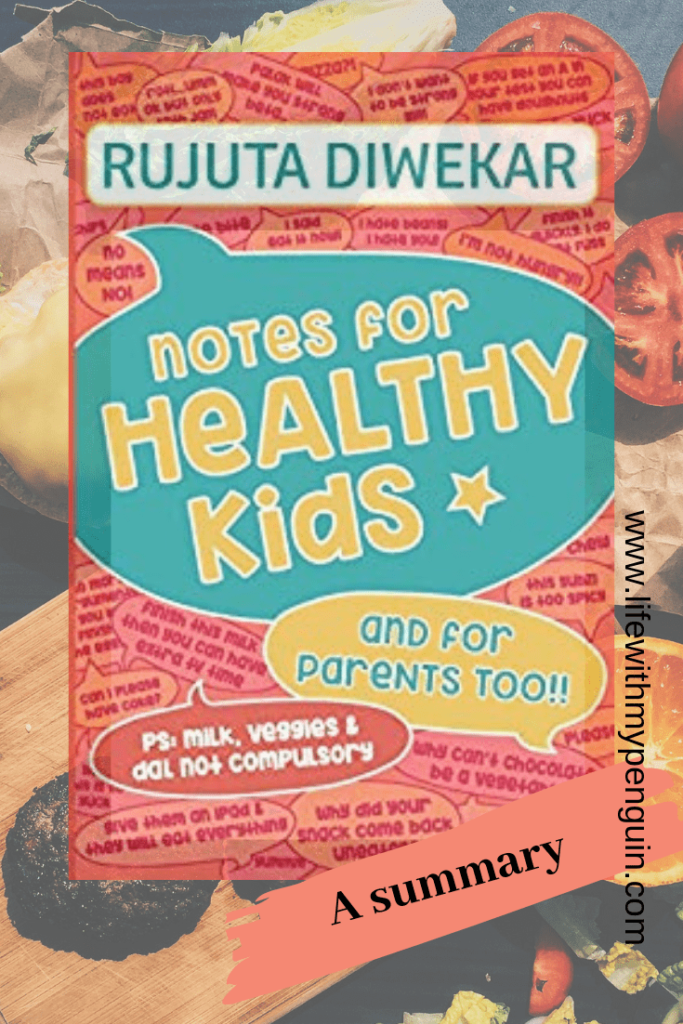 Notes for healthy kids – Summary:
This is my book summary of Notes for healthy kids by Rujuta Diwekar. The summary is informal, contains key lessons and my own thoughts.
The book shows out a bigger picture on how our kids are growing in an obesogenic environment. It focuses on the importance of good nutrition, exercise, sleep. A whole round quality of life. In a time where, all are living in phantasmagoria where there is a particular perception on body image. This book is quite an attempt to break that. Today the definition of healthy food has changed from our grandma. As the author quotes, "Parenting means teaching our children to eat in a way in which food doesn't consume them."
Food funda:
Eat local, seasonal and traditional fruits and vegetables.
Involve the child (better, entire family) in food making, creating a culture of value for food.
3 S's (sit, switch odd, senses) of eating. Sit relaxed, in sukhasana. Switch off all gadgets. Aware of Senses. I can put it as a way of mindful eating.
Finish eating by 8-ish
Milk, lentils, and veggies not compulsory
Most parents fear about the inadequacy of food consumed by a child. A fear that food industry feeds on.
Other sources of calcium are ragi, moringa, til chiki, besan ladoo, a handful of nuts, sundals, etc.
The key to calcium absorption and assimilation is activity and exercise.
Kids disliking dal, can go for chana, rajma, sundal and usal.
Cook veggies the traditional ways.
Add traditional halwa, barfis, and ladoos for vitamins and minerals.
Food habits for healthy kids
Nothing out of package for meal
No plastic tiffin boxes or bottles. (This was highlighted even during the 12-week fitness program. A big no to Veggies wrapped in plastic.)
Mindful eating
No chocolates/ice creams post dinner
Parent's role
Exercise. A minimum of 150 minutes a week.
Walk to school. (Penguin is yet to go to school. So, we go morning for morning walks.)
Encourage participation in sports
Take holidays
Play all weather.
Rest of the chapters try giving a practical application of what to eat and how age wise, occasion, health issues and illness. Though I don't agree with all points shared but most opinions are valid. Things are doable and would definitely be liked by our grannies.