After months of scoring heat, we all wait for rain. The raindrops bring out comfort. Dried land turns green again. The lush greenery dances with the breeze. Nature is at its best in this season. I like the little muddy puddles around. They bring out my inner child anytime I cross them. And to my fortune even my toddler loves them. What is not there to love there? You see a small world in those puddles a leaf floating, clear sky reflection on a clear day and at times a tiny tadpole hopping. My toddler Penguin can give 101 reasons to jump in puddles.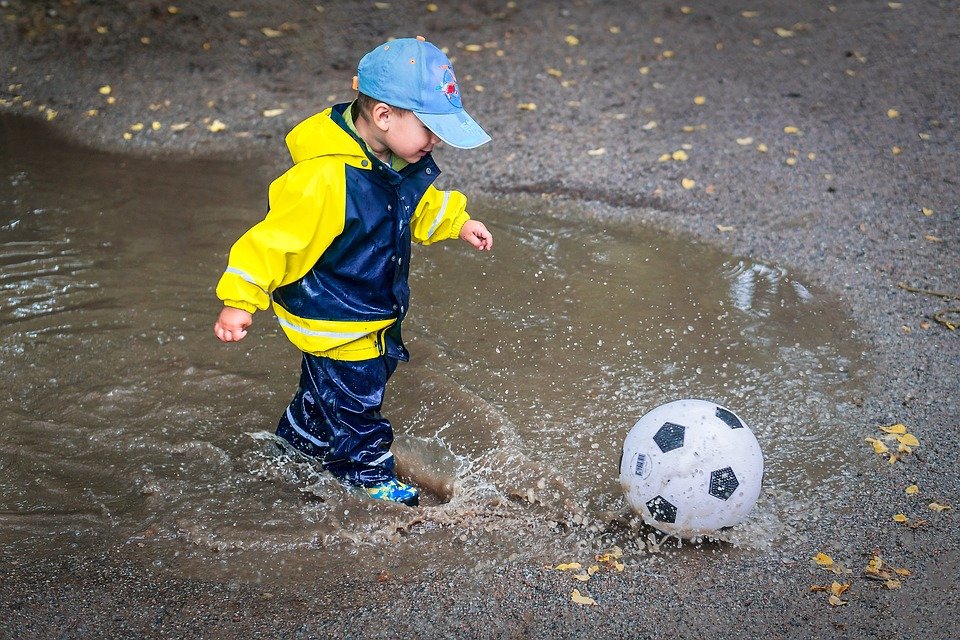 Sadly, every time we jump in one, we get few scrunched noses or oh-no voices in the backdrop. Well-meaning people around us who are misinformed, I guess, do exist. To think of it I don't remember many children who have ever joined Penguin who are allowed to jump in a puddle. Most parents or caregivers tend to have a different notion about "puddles". I am not totally against their view but I do not understand why most people avoid it every single time. One might choose to skip it if he or she are donning a really expensive outfit or are running late for some business.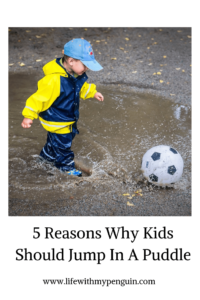 Two years ago, when Penguin was introduced to rain he was in awe of nature. He was blown away with the coolness of breeze and spark in lightening. Last year, he used to request me to put on raincoat and boots to jump in puddles. Every time, we used to go downstairs in our society he would love catching rain and float paper boats. This year he is waiting for rain eagerly. Watching clouds floating he would sing on "I hear thunder" or "Rain, rain, go away". As pre-monsoon is already here, he goes on jumping -splashing puddles.
So, here I bring 5 reasons to jump in that muddy muddy puddle.
5 reasons why kids should jump in a puddle
1. Bend some rules
There is no denying we set some boundaries with due freedom for our kids especially crawlers, walkers, and runners in house. When we go outdoors, let's bend some rules. Let them enjoy nature and explore it. Allow them to happily jump, run and destress. Studies say that outdoor play is one of the best ways to utilize a toddler's energy. Let them jump, roll and laugh when in the lap of nature. Including jumping in the puddle.
2. Learn few major skills
Estimation – splash the puddle and get a mental estimate of depth, volume of water content, etc.
Measuring – kids to learn a difference between large and small-sized puddle naturally.
Motor skills – jump, kick, need to say more?
Prediction – a skill that can be lifesaving in the future, the reaction time and prediction of the next course of action.
Spatial awareness – the awareness to understand and interact with the environment
3. Build up immunity
Playing in the dirt and muddy puddles build immunity. This is not a mother's words rather proved by research studies. Contrary to popular notion, Hygiene hypothesis, excessive hygiene leads to an abrupt decline in natural exposure to all sorts of microbes. So, when a child interacts with the environment the microbes present help to balance immune responses. Less illness and stronger immunity would lead to a happier childhood.
4. Engage in physical exercise
Kids never need gym because play is their exercise. All that jumping, kicking, thumping and gross motor movements strengthen their muscles. Puddles give them a perfect opportunity to splash some water, stomp like an elephant and jump all day. A growing child needs this kind of exposure. As prolonged sessions of inactivity are not encouraging to their muscular development.
5. Color their imagination
A pirate lover can imagine an island in those puddles while another might just give their cars a reason for a wash. Leave kids to imagine the puddles in endless ways. One might just choose to mindfully watch his reflection and floating clouds. Alternatively, one might weave a story of a frog jumping around. The world needs creative people and those who can communicate with nature. Give children a chance to be there while you join in their play or just watch them.
Do you know May 4th is celebrated as National Puddle Day in Canada in honor of young lives that were cut too short?
---
This blog post is a part of a #BirthdayBlogTrain hosted by Gunjan Upadhyay and Neha Sharma. I would like to thank Neha for introducing me to this blog train and would further like to introduce Bhawna to share her take on the prompts.