Were you afraid of algebra in school? Well, life got tougher questions too. Like, say something about you in 10 lines. Or extend that to 26. A to Z about you. Self-discovery is a slippery road.
Once in corporate training, an instructor walked in. He asked all to take half an hour and write 10 lines about ourselves. All were baffled why that activity needs that much time. Only to realize the reason as they started writing.
I met Romila on twitter. I loved her blog posts, her observations, and breezy words. This summer she wrote an Ebook and I am privileged to review it.
Book Review – That's what I like by Romila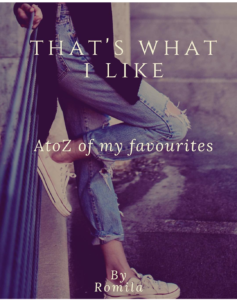 The book is an amalgamation of 26 chapters. If you want to know about the author this is the book. No, it doesn't have her birth details or relationship stories. A to Z collection of her thoughts, musings, and few favorites.
She started with sharing the life of a writer with her recognition and accolades. Chapters can be read stand alone too. Yet, the reader can get a drift. There aren't any big talks on ways of life. There is a simple flow of words and things that the author likes. Just what the title says.
The flow of words is effortless. Chapters are precise and seem meaningful. Her perception on few topics is quite diverse like "Umbrella".
Her passion for writing and zeal to share her work brought out this Ebook.
If you are looking out for a light reading. This book is for you.
About the author
Romila wears many hats – Writer, Blogger, Editor, Author, and a Brand consultant. She is a published author of 8 books. And started blogging in 2004 to continue her passion for writing that she always held, allowing her to be creative in her own little space on the internet, and hopefully to inspire, relate to people and maybe even make them think, feel and sometimes laugh with her words.