If you are someone who wants to get lost in a book these winter afternoons. I have something for you – "Thirteen Kinds of Love by Soumya Bhattacharya". This one would take you to an identifiable neighborhood, sketch up relatable people and keep to glued till the end.
Book title: Thirteen Kinds of Love
Author: Soumya Bhattacharya
Publisher: Harper Collins
Pages: 200
Genre: Contemporary fiction|Contemporary
Get your copy: Paperback | Kindle
Blurb:
A child cares for a family of pigeons nesting in his balcony; is his parents' relationship as diseased as the illness ravaging the baby pigeons? A man mulls over desire engendered by love and that which springs from mere lust. A couple confesses to the reader the reasons for the widening chasm between them. An intricate mesh of relationships and lives, Thirteen Kinds of Love follows the fortunes of several families living and working in an apartment block in Mumbai. This is a book about loving and losing, about trying to redeem oneself, about attempts to remake and refashion what has been torn asunder. Soumya Bhattacharya draws the reader into the narrative using his deeply evocative, distinctive prose. This is an astute exploration of how we live and love today.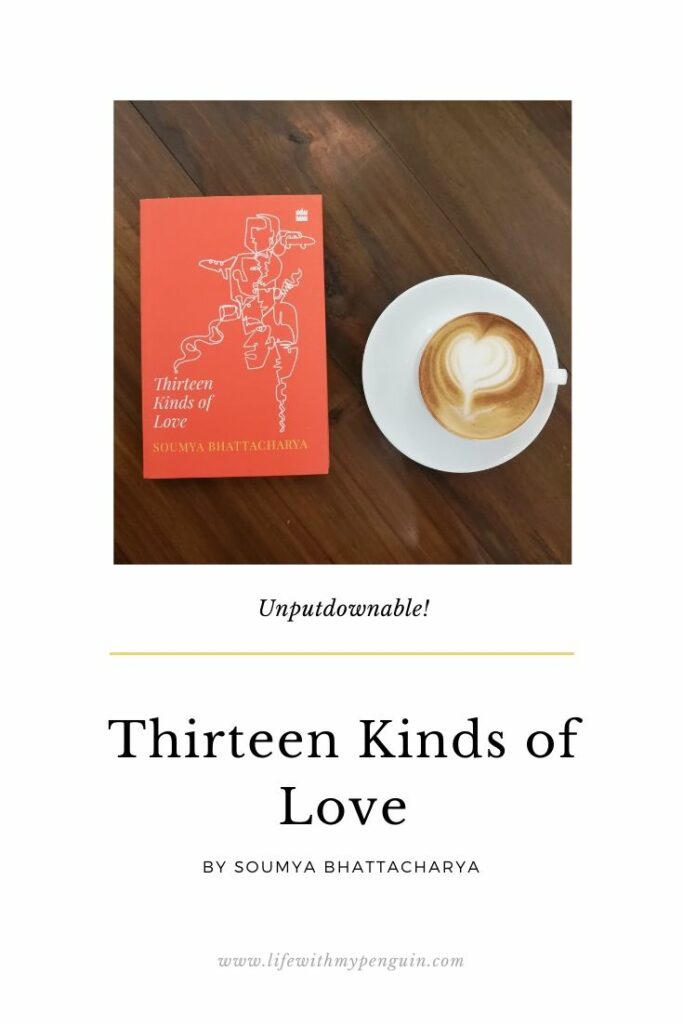 My take on Thirteen Kinds of Love by Soumya Bhattacharya:
Thirteen Kinds of Love is a collection of tales about residents and people associated with the high-rise apartment Imperial Heights in Mumbai. The stories explore urban anxieties with human emotions around love.
Crossing path with a widower who is still in love with his wife. Later meeting a man who keeps wondering if his wife is aware of his illicit affair. A father wishing to spend more time with his son. Each circumstance urging the reader to think if love can change forms. Ponder of forces that bring these changes. And appreciate how they deal with loss, physical or distance.
Every character is well developed and seems convincing enough in their storyline. Once the reader moves across chapters the interlinking maze gets more visible. The lucid narration and expression of relationship dynamics make this a page-turner.
One of the brilliant works within stories was conveying the same scene from two characters' points of view yet the contrast is at large. Skillful.
Another pat on the author's back would be the use of words. He depicted multifaceted feelings with impressive impact.
The minimalist cover showcasing the interconnectivity among characters is clean and apt.
Unputdownable.
Rating: 4/5
---
*The book review is not sponsored, but it contains affiliate links. When you purchase a copy of the book through my link, I earn a small fee at no extra cost to you. Please support my blog by purchasing through my link!
*Thank you, Harper Collins, for trusting me with an honest book review.
*This review is done as part of the Blogchatter Book Review Program
---
You might like Unread by Platform For Artists -Book review