Did you just read the title twice to understand? Now thinking, History! To toddlers and young kids? What? Why? How?
For most of us, history was boring, it was a rote affair. The final score was all that mattered. But is it really true? History defines us, the way we are shaped, how survived, why do we call a few people as – ours. Why we talk about our state, our country, our culture and more. So, in way history helps us to understand our environment and gives an insight into our origin.
Now, our toddlers and pre-schoolers are aged almost 1-5-year olds. Do they really understand? Studies say, our young kids who might not clearly say when to do poop business can understand and relate our adult conversations. "Toddlers can clearly understand complex conversation long before most parents think they can," explains Jean Berko Gleason author of The Development of Language "There is often a difference between the receptive language and expressive language at this age." They do understand when we talk to them happily or get angry at them.
Maria Montessori explained in The Absorbent Mind, "From birth to (approximately) age six, your child's brain works in a very different way than adults do. At this age, her mind is like a sponge, soaking up huge amounts of information from her environment. She is absorbing everything around her, effortlessly, continuously, and indiscriminately."
So, even if not the entire concept, yet these children do understand.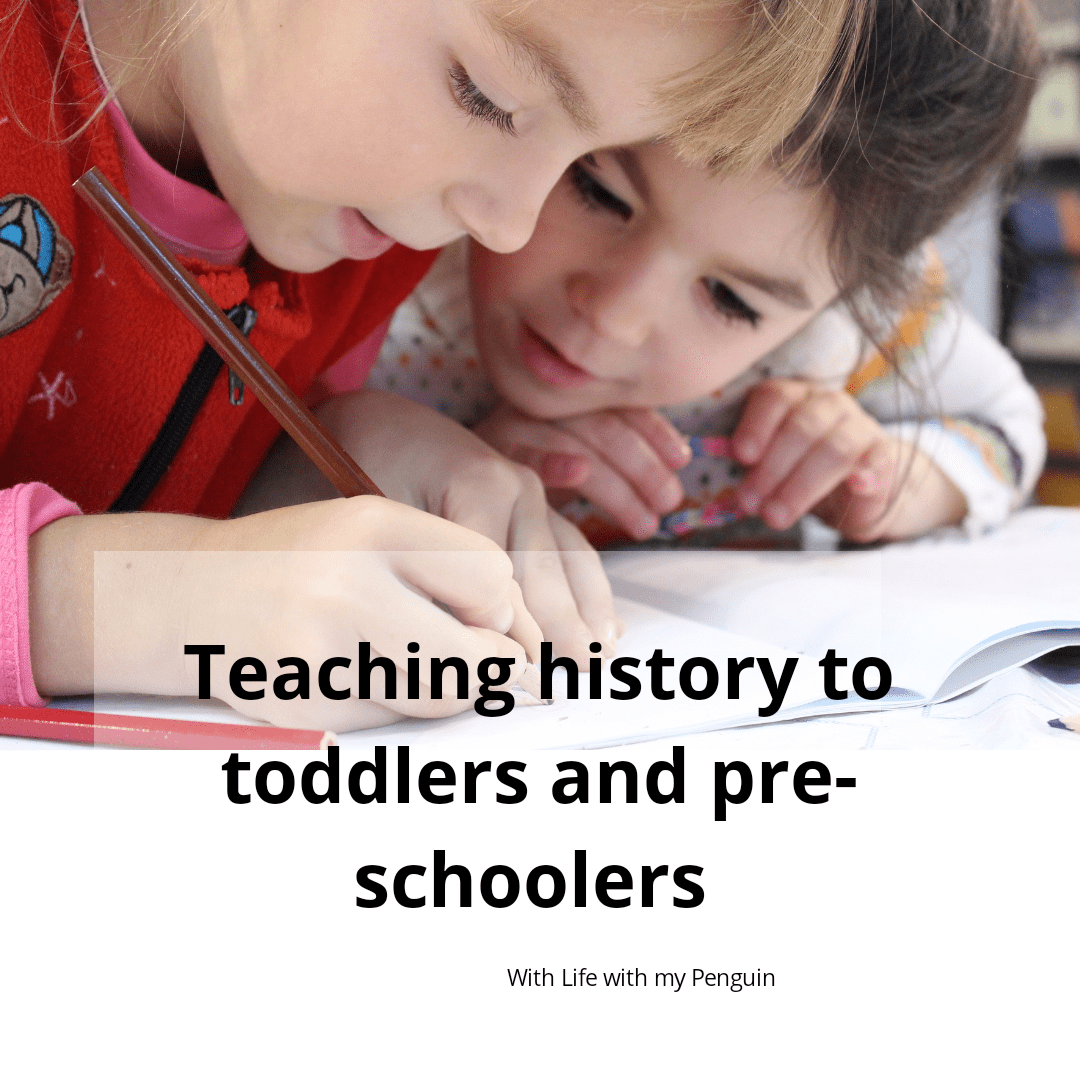 Why teach history to toddlers and pre-schoolers
The past month we celebrated 70th Republic day of India. And when I planned for activities for Penguin #activitieswithPenguin I realized he would surely have fun but the underlying story would never be understood. The intention is to Know about personalities, their contributions and thank them. Add, it builds imagination for little ones.
The environment around us is always changing. We no longer see how it was during our parent's time or before. But to understand how the things around us change we must know the origin or stats from a timeline. It also helps to understand and respect cross culture.
We all want our children to be righteous individuals. While talking about morals and ethics it gets easier when we have a role model to talk about. It will help to widen toddler's and pre-schooler's perception.
The takeaway also enhances the analyzing and interpreting skill of little humans.
How to introduce history?
To kids this young we aim them to know about the person or place or event. One should skip going to the exact date or year for toddlers or pre-schoolers as they might be unaware of the concept of time. This never means that we can't introduce the subject to them. There are always ways to start.
Storytelling and Songs
In our country, we always have stories and songs to celebrate any function, birth or unfortunate events. Since ages stories travel across regions by word of mouth. And grandparents are great storytellers. Talk to kids about the legends in our history, brave stories and sing songs aloud.
Pictures identify
Toddlers and pre-schoolers love the point and talk activity. Point a picture of a historic figure and talk about them, just like identifying alphabets and objects. You can select a handful of pictures to start with and broaden with time.
Read books
Can there be any better way other than books? Picture books and the level 1 book are a great way to know about history. If you are raising a curious reader, then books are your best friends.
Visit places
Travel is another great way to learn. Art and architecture can amaze children in a billion ways. Read my post Why you should travel with kids? When you can touch and feel a story it gets easier to connect with the story behind and characters present.
An evening at Aga Khan Palace
Situated in the heart of Pune, the majestic building is closely linked to our Indian freedom movement. The Aga Khan Palace was built by Sultan Muhammed Shah Aga Khan III in Pune, India. Built in 1892, it is one of the important landmarks in Indian history. The palace was an act of charity by the Sultan who wanted to help the poor in the neighboring areas of Pune, who were drastically hit by famine. It has Italian arches and spacious green lawns. The palace archives a number of photos and portraits depicting glimpses from the life of Mahatma Gandhi, the father of the nation of India, and other personalities of the Indian freedom struggle. The room in which Gandhi stayed is preserved to the point. The books, clothes, writing desk, letters, and even his spectacles are there. In addition, Kasturba Bai's things are well-looked-after and on display.
This palace is also the headquarters of the Gandhi National Memorial Society. We frequently visit the place and talk about Mahatma Gandhi and his contribution to independence.
What are your thoughts about it?
This article is written as a part of SuperBloggerChallenge conducted by Healthwealthbridge.com ,  Allaboutthewoman.com   and powered by Instacuppa and should not be repurposed, republished or used otherwise. The content herein is owned by the blogger. SuperBloggerChallenge is not responsible for any infringement caused.