In August 1945 two countries, neighbors celebrated their freedom from years of British colonization. A strong reason to celebrate. Or perhaps not so. In the next few months, people witnessed one of the greatest migrations in human history. People have to leave their homes and adopt a new home. The blood-drenched partition is unforgettable. In the book "Across the line" by Nayanika Mahtani unfolds the tales of borders, beliefs, and emotions of individuals who fell prey of games played by people.
Book Title: Across the line
Author: Nayanika Mahtani
Publisher: Penguin Books
Genre: Historical fiction | Children's historical fiction
Get your copy: Paperback| Kindle
Blurb:
A tale of borders and beliefs shaped by the games people play.

1947
New Delhi. Cyril Radcliffe's hands are clammy, partly from the heat but mostly from the enormity of the task assigned. Mopping the sweat off his brow, he picks up his pen, draws a deep breath–and a dark line.
Rawalpindi. A barbaric frenzy of rioters fills the streets, disrupting a game of pithoo between Toshi and her brother, Tarlok, shattering their lives unimaginably.

2008
Rawalpindi. Cricket-crazy Inaya is sneaking out behind her father's back for net practice when she discovers that she is not the only one in her family keeping a secret.
New Delhi. Jai accidentally stumbles upon an old, hidden away diary in his kitchen. The date of its last entry: 17 August 1947.

As Jai and Inaya's unlikely worlds collide, another story unfolds. A story that started with the drawing of a line. A story that shifts the truth in their lives.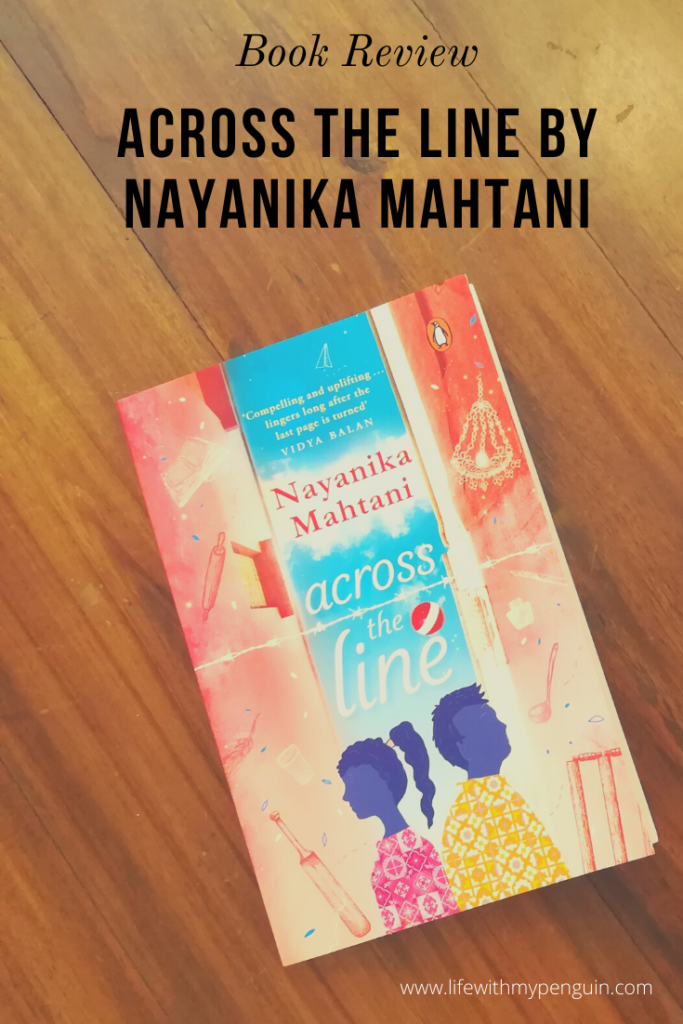 My take on "Across the line" by Nayanika Mahtani
History baffles us. While we read how heroes saved the nations and their sacrifices. Many of us are unaware of how there were also a few people who were pawns to power and played on. A blue-eyed royal dreaming to be a gallant hero gave a nonchalant shrug dividing a nation. A lawyer who had no idea of socio-political conditions or waterways or populations had to divide a nation as India and Pakistan (East and West) in a mere 5 weeks. This entire ordeal is covered sensibly by the author in the first chapter.
The plot moves to the date 17th August 1947 where the lives of two families, Shanis and Haiders are uprooted and tossed with partition. Until 2008, where worlds of two unlikely teenagers, Jai and Inaya, collide changing few facts of everyone's lives.
The author's lucid writing keeps moving readers across multiple timeframes and geographic locations. One aspect that makes characters real are they have few flaws, loss that changed them. Dented yet made them. Family scenes are quirky and fun. Cricket the sport that enjoys adoration at both the nations also has an unmissable role.
Another feather in the author's cap, there are chapters where eyes might not remain dry. All this, without any gory horrors. Yet the fear, loss, and haunt are felt. The twist in the plot where loose ends bind would leave goosebumps. The book would touch readers.
The story would stay for long in my heart. I hope this book finds many readers, especially in today's turbulent times.
If you like historical fiction or want to understand the cost of freedom and partition, pick a copy. You won't be disappointed.
Rating: 4/5
I can't help but mention the thoughtful cover design done by Devangana Dash. She is also the author of one of the most vibrant children's books we read in 2019, The Jungle Radio by Devangana Dash – Book Review.
---
*The book review is not sponsored, but it contains affiliate links. When you purchase a copy of the book through my link, I earn a small fee at no extra cost to you. Please support my blog by purchasing through my link!
*Thank you, Penguin Random House India, for trusting me with an honest book review.