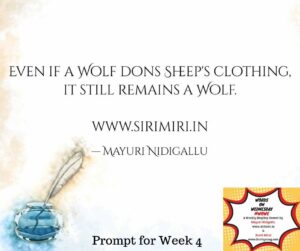 "Even if a wolf dons sheep's clothing. It still remains a wolf."
Gayu has heard this thrown on her multiple times. Though she puts a brave face, it hurts her immensely. It has been years yet she is judged and ridiculed. She was a victim yet treated as an offender.
Her aging parents are worried now. With time they have started regretting their support to the only child.
"Were they wrong to support their only child when she stood up for all right reasons?"
Gayu had joined an esteemed college for graduation. Days were blissful until Rajesh saw her. He started following her everywhere. Gayu was unaware of things around her or rather she turned a blind eye on that matter. Things turned sour when Rajesh proposed her and she turned him down.
A simple rejection injured his phony ego. He acted like an obsessed jilted lover. Even attempted molesting her. Gayu took legal action. Her parents stood by her decision.
Talks denigrating Gayu spread like fire in the small town. People judged the girl without even knowing the story. Her true nature is never acknowledged. Is it that easy to ridicule because she was a woman?
---
We talk about equality, girl child education, and women empowerment. Yet when women like Gayu take a stand on their dignity, all jump to judge them. A woman is brutally attacked. Can we just support them in their fight instead of bullying them? The story is based on true incidents. Characters name are changed here.
---
Word count: 196
This post is written as part of the #WoWe Blog Hop hosted by Mayuri and Rashi. Here one can share a story within 200 words on the given prompt. This is my entry for Week 4 based on the picture prompt at the start of this post. Do share your views in comments.