It is never too early to introduce books to kids. Ancient Garba Sanskar believes in "education in the womb" for a baby's mental and behavioral development. It is also a way of bonding with child way before birth. The baby would listen to the parent's and caregiver's voices and recognize them. After birth, it's seen how babies respond to a particular voice of the mother. But unfortunately, many parents pause reading books to newborn assuming they can't understand books. Well, there is good news for them. Books for kids are there for all age groups including newborns, toddlers, and preschoolers. One just needs to get the right age-appropriate ones. Now, collect the right ones and cuddle your baby. This is a great start to associate them with the joy of reading for lifelong.
Best books for kids aged 0-1- year olds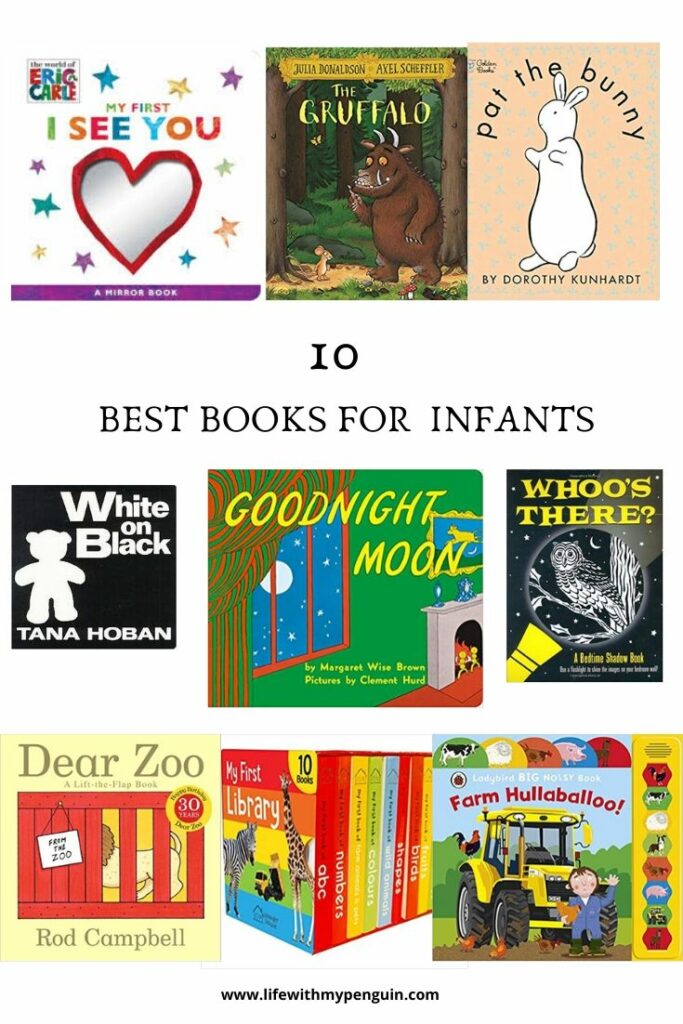 Black & White by Tana Hoban
Science states that a baby's color perception is limited to contrasting colors. So, get this one with bold yet simple illustrations. Let the child explore this one during tummy time.
Pat the Bunny by Dorothy Kunhardt
A cute book perfect for little explorers. This is a classic one loved for years worldwide. It has a nice touch and feel pages that encourage children.
Farm Hullaballoo by Ladybird
The sound books are loved ones for infants. They get attracted by a sound like no other. This book is a good way to introduce farm animals and their sound.
Dear zoo by Rod Campbell
Babies love animals and this book is a gem. A child desires a pet and writes to a zoo. The zoo sends a series of ineligible pets. The infant reader would love to lift the flap and find the animals.
Goodnight Moon by Margaret Wise Brown
Another classic book on the list. The book states about the bedtime ritual of a little bunny saying goodnight to things around him. This one is void of any story yet is one of the most loved bedtime books.
Very Hungry Caterpillar Finger Puppet Book by Eric Carle
The finger puppet book is endearing for infants. The book is about a caterpillar growing into a butterfly. With a puppet, it adds life to the bestselling book.
However, the story is not complete as compared to paperbacks. So, you can also opt for hole books. They are equally engaging and loved.
My First I See You: A Mirror Book by Eric Carle
Mirrors attract children. They assume there is another baby enacting them. A mirror book encourages to interact. Also, this a fun book written in rhymes.
My First Library by Wonder house
A set of books that covers all needful things for years together. Get this for infants to introduce them to books, concepts and use them till they join preschool.
Whoo's there? by Heather Zschock
This one is another gem and would be a treasure for long. Snuggle with your baby and shine the beam through this shadow books. An assuring bedtime book with lyrical rhymes.
The Gruffalo by Julia Donaldson
The list of best books would be incomplete without this lovely storybook by Julia Donaldson. The story is catchy, funny and beautifully illustrated. A must-have in your little one's library.
---
*The post is not sponsored, but it contains affiliate links. When you purchase a copy of the book through my link, I earn a small fee at no extra cost to you. Please support my blog by purchasing through my link!