In the previous part of this series "Raising a reader," I shared about types of books. Now that you have the desired book in hand and baby is eyeing over the new thing on your hand. What to do next? If you think the baby is going to take the book, turn a few pages, get awed of it? Then my dear the journey has just begun. Let's march together and introduce books to our children.
"Any book that helps a child to form a habit of reading, to make reading one of his deep and continued needs, is good for him. – Maya Angelou
How to introduce books to babies and toddlers?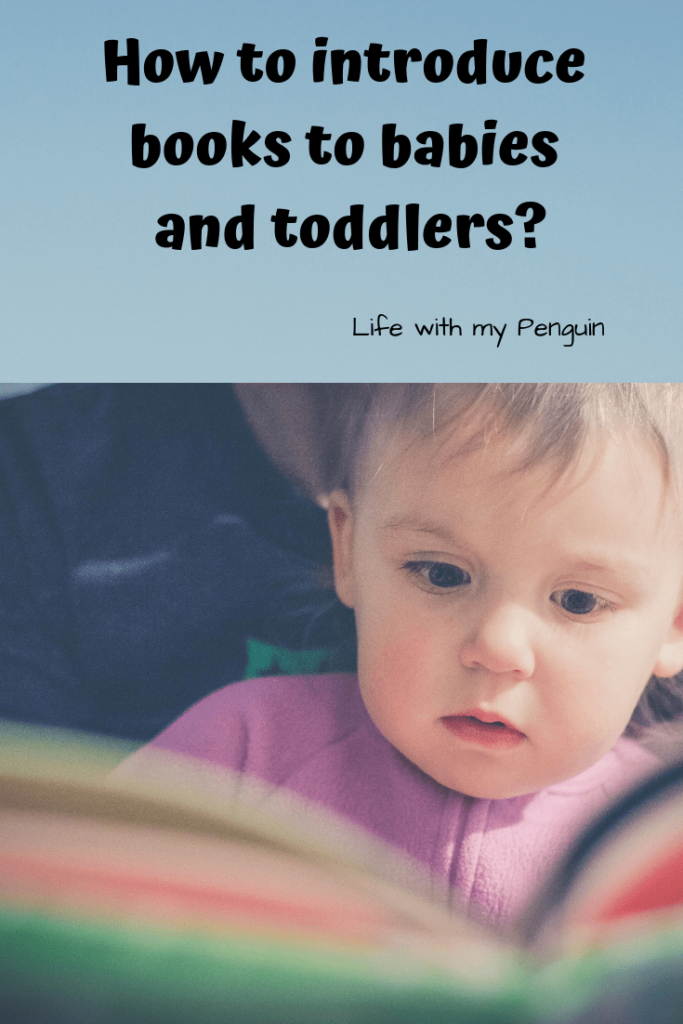 An early start
The earlier you start, the easier for you. Though anytime is good time to start. Newborns and infants love getting cuddled (quite a debate who loves it more, isn't that a mom?) and listen to a parent or caregiver voice. It is almost talk-to-baby. Young brain is soaking up the sounds, tones, words. So, book reading would add up to their language development. Child can develop a connection with words and pictures, enabling then to learn.
Read aloud and together
Take a book and cuddle your baby, show her the pictures in the page, point out the objects and name them. Read out loud and let great things happen. Reading loud with the baby helps in getting their attention, keeps them engaged and improves bonding time. Child would learn to focus on your words, voice modulations and would react to you.
Get age appropriate books
It is important to choose age appropriate ones. Giving a book filled with words and less pictures might not attract your little one. So, get contrast ones or one with bright coloured illustrations and explore pages with baby.
Involve the senses of baby
When the child is involved with a texture, smell, your words along with pictures, let her enjoy a feast of senses. Isn't it more fun if there is a puppet in the book? Let them touch the books, flip the pages, scratch the edges and get involved.
Engage the little reader
Point out to the pictures and talk about them. Ask them about figures. Keep them charmed with your tone, facial expressions and eye contact. Let the little reader turn pages. Give your personal touch to the story.
Rotation brings newness
At times when child know about the book, they tend to lose attention. Swap the current reading with other. Have a weekly or monthly book rotation. Child would love the fresh pages and enjoy the book.
Respect the child's choice
A particular book might become your little one's favorite and she would keep asking for it. Though it might feel tiring, still respect her choice and re-read it. On a particular day, child might refuse to sit and read. And that's okay. Don't force your child. Forcing might affect negatively.
Allow freedom
Place your child's book in reachable spots. Let him choose what to read, where to read and when to read. Don't limit books to one spot or time. Let the books be in every corner of the home.
Keeping a variety
There are various kinds of books for kids like I shared earlier here. Keep a mix of textured, flaps, sparkles and more. Have cloth and board books. Add paperbacks to the collection as they grow. If you are brave enough, you can paperback earlier. (No humor intended)
Routine
Sticking to a routine helps all. Start with a few minutes at a time. Increase the timeline gradually. Build reading an everyday routine.
How did you start with your little reader? How did you introduce books? Or are you going to start now? Tell me about your thoughts.