I was 27. Young, healthy living male. Until one day I was diagnosed with chronic illness. I was losing my strength. Soon lived in a wheelchair. This disease brought me down. Down, to the lowest points of life. My dream career as pilot vanished into thin air. My love of life couldn't see me in pain. He walked away. My friends started pitying me.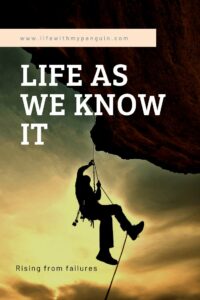 But those years of life in a wheelchair. Those struggles and survival battle shaped me into the man I am today. I turned into a better person. An optimistic fighter. I practice gratitude in life like never before. I started appreciating efforts around me.
Back then my mind used to play games with me. "You failed it. Again. Didn't you?"
There were silver linings in dark clouds. My bitter moments in life walked me to friends. The one who chooses to urge me during a low time. My family who could have quit but still fought hard. Often, I feel embarrassed about remembering my youth and teen days. I was a self-proclaimed rebel. If only, I knew the truth of life then.
It has been 10 years now when my disease tired pulling me down for a while. The same time period is now lifting me up, up and away. Just like Dumbo. I own a business now.
When Timothy Mouse told young elephant, Dumbo "The very things that hold you down are going to lift you up." There was a deeper meaning to it.
There are hurdles, meant to be overcome. Everyone who achieves success faces a fair share of hurdles. At that moment what matters is how they react. It could make or break a person. The recipe to overcome roadblocks creates a new person.
Don't doubt yourself. Try harder. Change your perception. Roar louder.
What are your thoughts about failure and success?
---
This blog is a part of the #WeeklyBlogHop hosted by Alpana and Neha. I would like to thank Priyal for introducing me to this blog hop and would further like to introduce Aditi to share her take on the prompt.