Unbelievable, a Netflix miniseries, talks about a grim subject matter. Sexual abuse. Rape. The aftermath.
It is infuriating. One that would make you mad-scream about the miscarriage of justice. Something that we hear, know and see often. Living in a #MeToo era, the stretch of mistrust faced by women is gut-wrenching. A young woman reports rape, instead of chasing the offender police poked inconsistency in her statement. Further, dismissed her claim and sued her of false-report.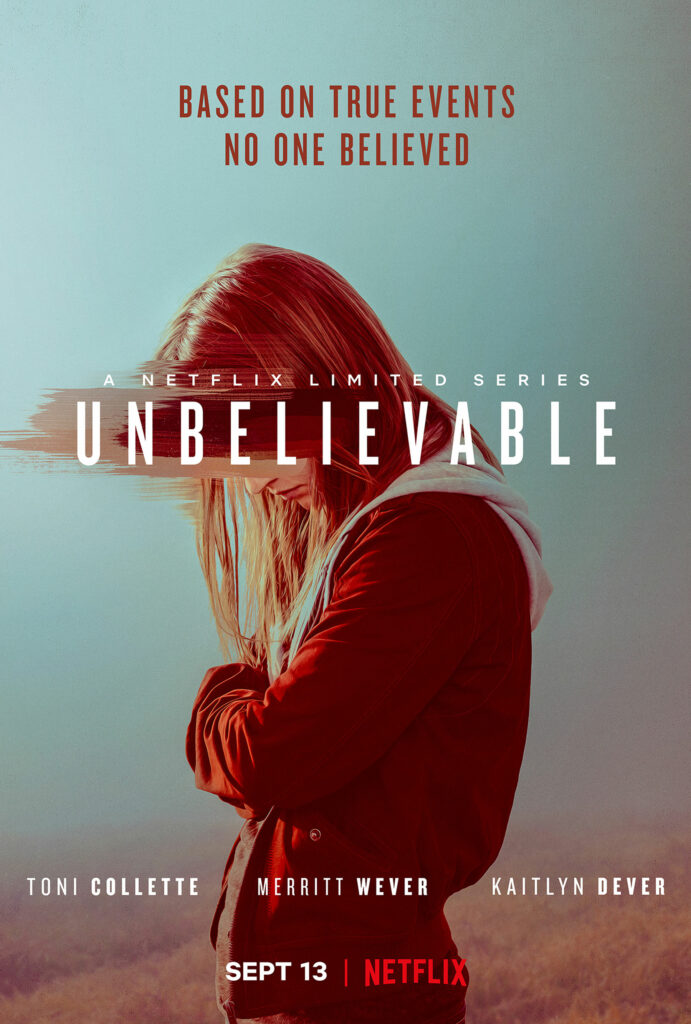 Living in the society which cried loud #MeToo, just to fall back in life after finger-pointing and social media cries. Women who faced sexual abuse live with fear. Constantly feel unsafe. While many if not all, sexual abuse preparator is still at large. Free. Living at their will. Looking out for the next target. What hurts more? The credibility of the victim is questioned by all.
Unbelievable is based on the Pulitzer Prize-winning article An Unbelievable Story of Rapes by The Marshall Project and ProPublica.
Marie, a teen whose independent life has just begun. One who had been in and out of foster homes since the age of 3. Her new life is shaken up. When one night in 2009 she woke up to find a stranger in her bedroom. For hours she is repeatedly raped by that stranger at knifepoint. This was one of the first abuses she underwent that year. Soon the detectives found loopholes in her statements and bullied her to admit making up a story. Her friends and acquaintances choose to alienate her. She is forced to live emotionally isolated. However, far-away two detectives investigating on a series of rapes in 2011 believe Marie was abused by the same person they are in search of. Finally, he is caught.
Detectives Toni Collette as Grace Rasmussen and Merritt Wever as Karen Duvall are strong women, former a strong-headed individualist and later an empathetic. Each having layers to their characters, having a life beyond the investigation. Each taking an unbelievable path to find the criminal before he preys on next woman. These women feel a lot real, making the viewer believe – we need more like them in reality, in our country.
Kaitlyn Dever as Marie Alder plays the brilliant role of a trauma victim who faces brutalism repeatedly in hands of law and assumed societal support. Depicting the emotional state of Marie as she shuts down emotions and tells, re-tell the difficult situation to police, detectives, a nurse in a repeated loop is shown with attentiveness. She is never melodramatic. The scene of violence is not bared in a go. The scenes are divided in quick flashback across the 8 episodes. Yet they are horrifying, though not detailed. Horrifying enough. Uncomfortable to view. Painful to hear.
The miniseries, Unbelievable, might not gather huge audience for its realistic portrayal. It documents the raw trauma, justice denied and severed years late. Even do talk about self-worth and the scars of fight endured. Unbelievable also brings up the radical question of difference of listening to the victim, with compassion. Humanism.
Streaming on Netflix. 8 episodes. Unbelievable is unmissable.
---
If you like this, you might like Onaatah of the Earth: A spectacular movie. The healing journey of a woman after sexual abuse finding a new purpose and peace.
---
I am taking my blog to the next level with Blogchatter's #MyFriendAlexa.