I was staying with my parents. When my child, Penguin was born. I had IUGR pregnancy and the stress already stained me out. Then I faced hyperlactation. I went under medication and okay by the end of the 4th month of motherhood. I moved with my husband, Mr. Fabulous. Soon, I realized my wrists are hurting. I am unable to drink a cup of water or eat without pain. Within days I was unable to lift my child without tearing in pain. It was the mommy's thumb. It was then when I started relying on babywearing.
What is babywearing?
For centuries human babies were carried by parents and caregivers. As the babies need that. It creates a bond between them and they can move too. When carrying babies was made easier by wearing them. They started babywearing.
Before the child was born, she was always feed on the womb. She never felt hunger. She kept hearing mother's heartbeat and soothing sounds. Baby was never alone. So, babywearing definitely soothes the child.
As we talk of it. Babywearing is not a modern invention. For centuries our ancestors used to wear babies. Even older siblings used to carry the older ones. It is still prevalent in parts of the country. Mothers and caregivers wear the babies while carrying out the daily life. The babies get warmth and attention all the time.
Babywearing = Happy baby + happy mumma
In today's scenario most families stay away from loved ones in a nuclear way. So, parents have to manage the baby and routine duties. If they can afford help that's great. It would support the mother to rejuvenate. Thankfully, I got a help for cooking and household cleaning for initial months. Later I had to manage all and it was damn exhausting.
One of my friends asked if I used to really wear Penguin everywhere? My answer was a prompt YES except for loo breaks.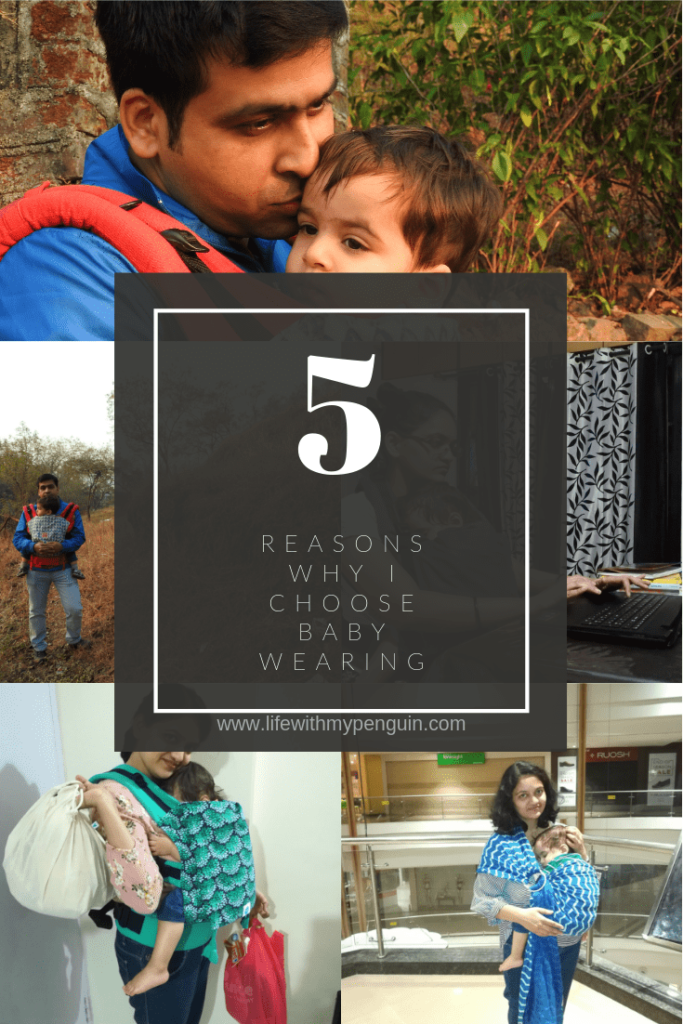 5 reasons why I choose babywearing?
Penguin and I started the morning walk when he was barely 4 months old. I used to carry him in full buckle and we used to stroll around every morning and evening. It gave me a freedom to move.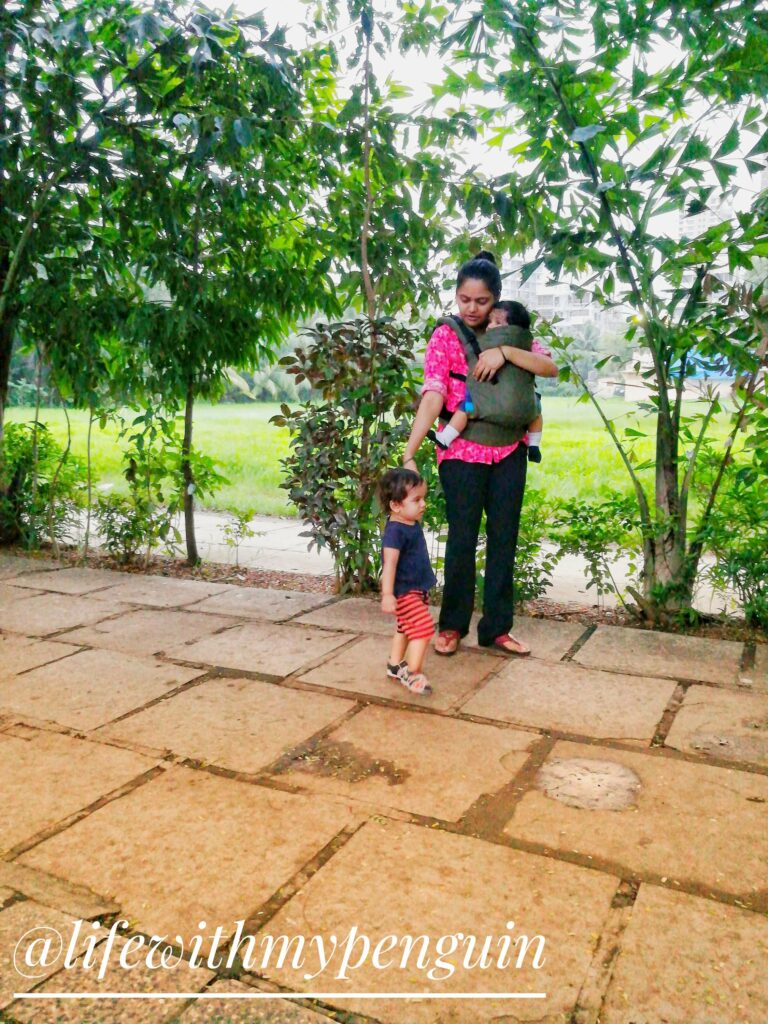 I have cooked while back carrying him for days. We have had to eat food and Penguin was cranky. My teething and glued-to-me toddler was happy with a back ride. Multitasking check.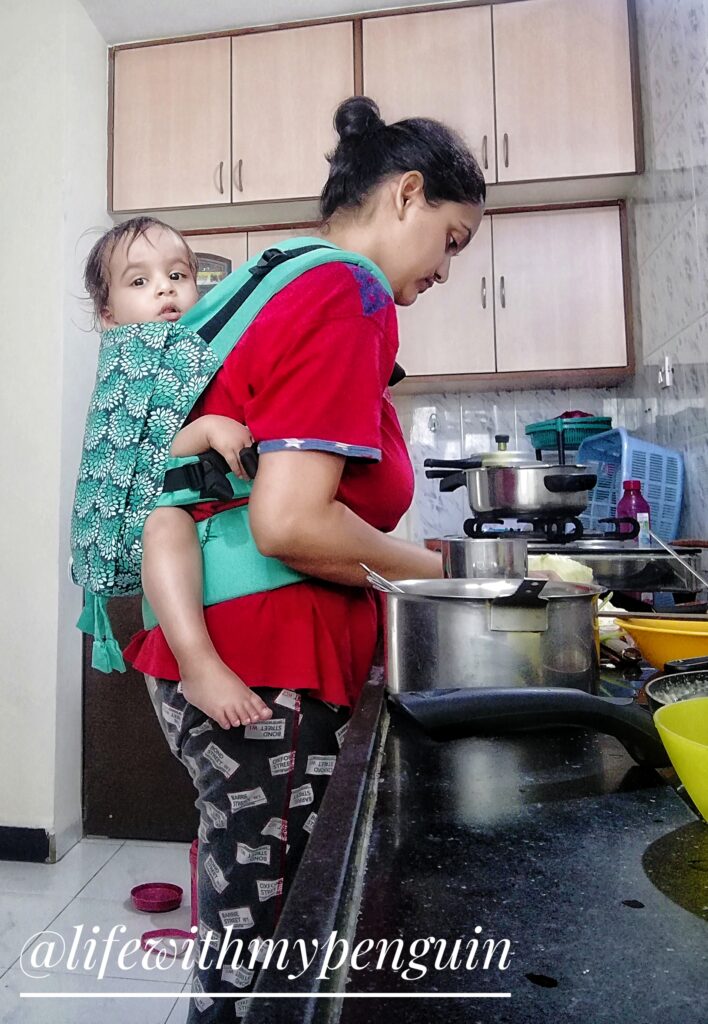 Babies during initial years need a frequent change in wardrobe. No brainer in that. While shopping for my little one I never wanted him to go on exploration right in the middle of a store. Again, babywearing helped. Plus point for less merchandised was pulled, pushed, and shoved by Penguin.
Though today my toddler helps in folding sheets, making bed and laundry. The then 5 months old gave me a tough time to finish the simple task. Solution – Babywearing.
Again, while shopping if my infant was hungry. All I had to do was adjust the position and continue shopping. Trust me it was that easy to Nurse in Public. Almost everywhere I wore my child while enjoying the movability and freedom. It was a boon for me. I wore him to have a less hassle flight while the solo traveling first time. Even to small trek, we had around the city.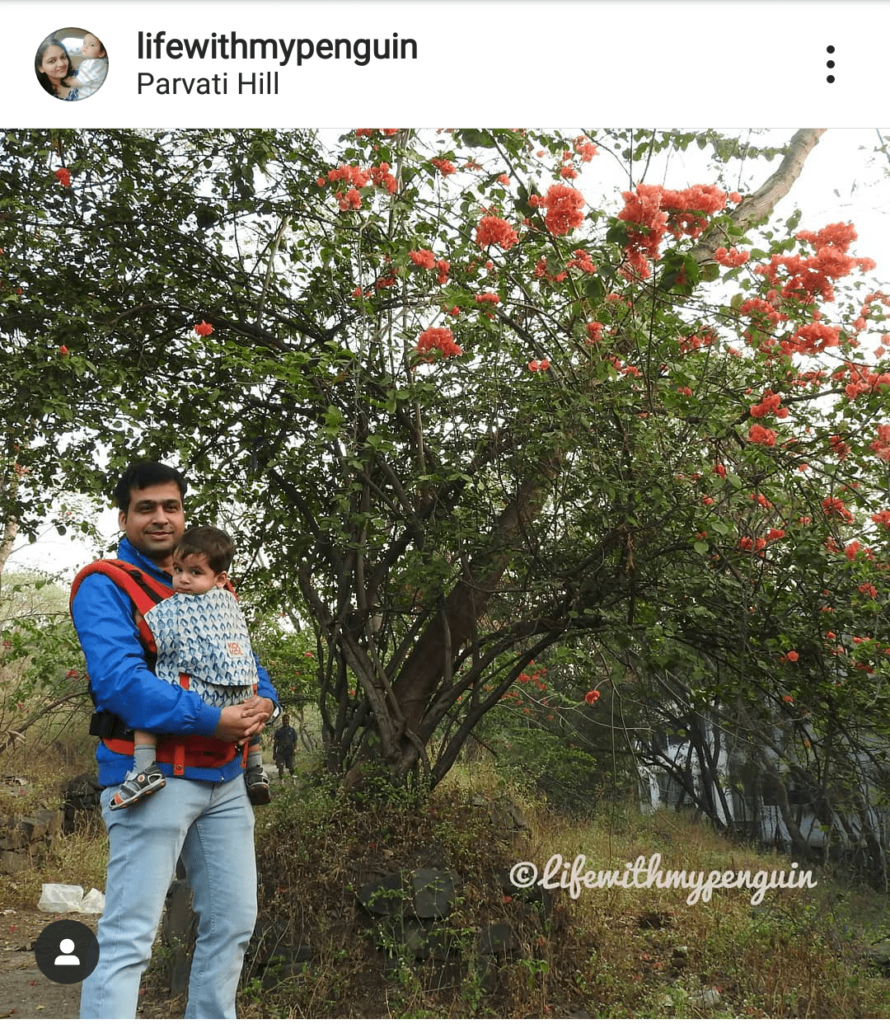 If you are someone, who stays away from family have little to no help around you. Or even one with helping hands around. Choose to babywear as there are scientific benefits and personal freedom.
What are your thoughts about babywearing?
If you like the post, you might like to check us on Instagram, Facebook and Pinterest.