"Early morning exercise will keep you active for the entire day."
― Lailah Gifty Akita, Think Great: Be Great!
We are aware of the benefits of the morning walk for adults. It keeps us with a healthy body and mind. Keeps us active for the best part of the day. Be it a warm morning or cold breezy day, morning walk with kids is a must for us. A dose of fresh air and loads of sunshine are vital for babies and adults alike. Benefits of the morning walk are immense.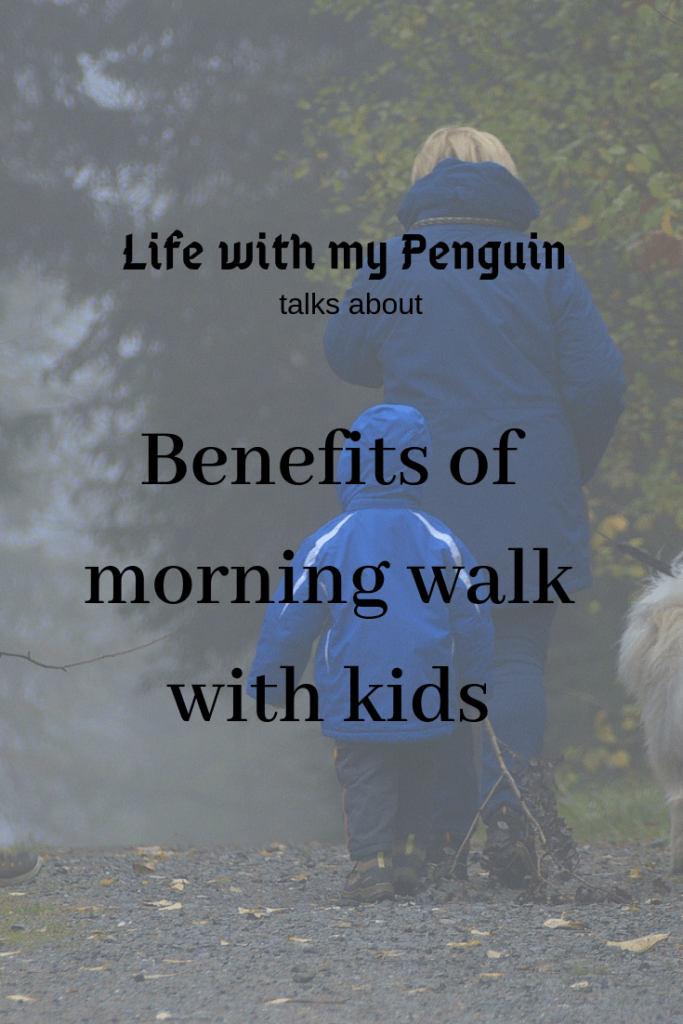 When my son, Pengin, was a few days old; my parents used to expose him with the early morning warm strands of the sun. This ritual continued for long. Once I returned Pune, I used a stroller and we roamed around a block. Soon, we ditched the stroller and adopted babywearing ways. Now Penguin is a toddler and runs around the block.
When I started this morning ritual of the walk, my objective was limited to a good dose of Vitamin D. Gradually I found many understated benefits of the morning walk. (Read on ). We would go outdoor around 8 AM or earlier, and stay out for at least 1 hour.
MODEST BENEFITS OF MORNING WALK WITH KIDS
Our morning walk is all about fun, creating memories and educational. We feed pigeons, chase butterflies, wave bye-bye to people and notice many every small action along the way.
Physical
As he started walking without any support around 13th month, he was new to the phase of enjoying freedom and independence. Every morning he chooses the path to explore and I follow. He either picks to walk along the road or go to park nearby. Walking has promoted his stability and strength. He can independently climb up the stairs to slide and also climb up the slide from the age of 11 months. Now he can easily climb 3 floors of stairs to reach our apartment. There are days when we even climb up to 6 floors up and down.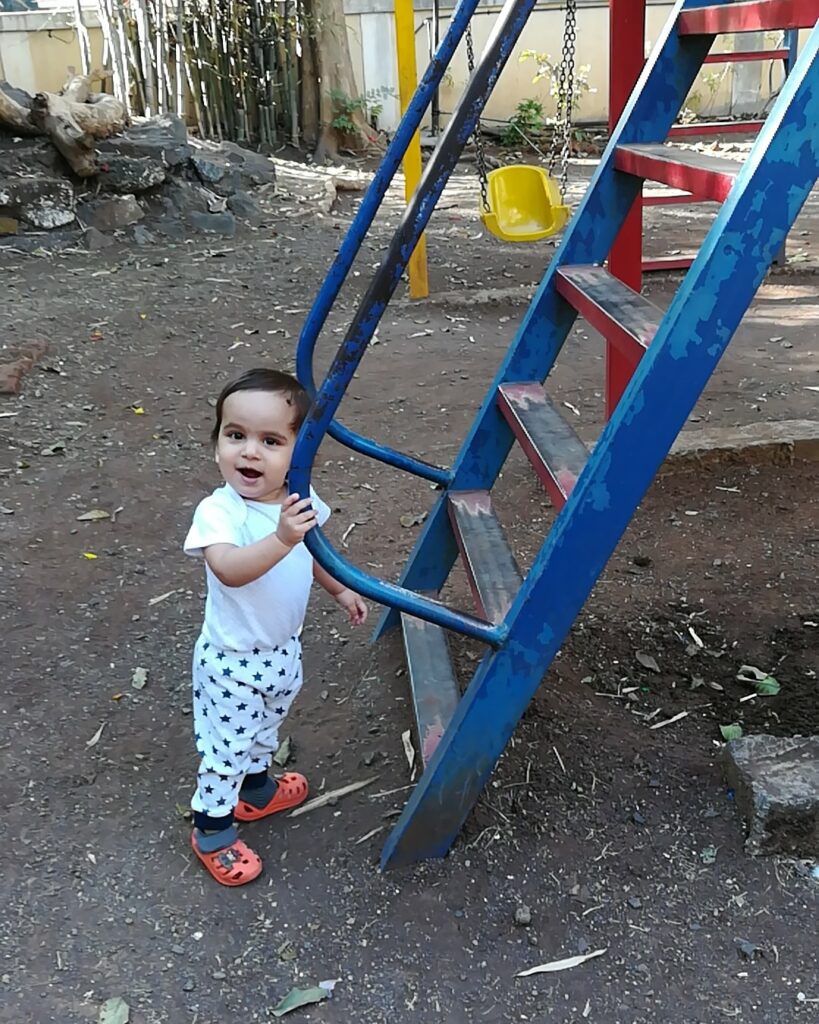 Independence and sense of freedom boost toddler's self-esteem. Also, it increases their attention, focus and sense of physical awareness.
Social
Penguin, my son, is a shy child. He still takes his own sweet time to give a smile to strangers. But thanks to a daily social interaction the ice is breaking. Kids love to play with other children irrespective of age. While same cannot be said for their liking towards grownups. During our daily walk we interact with kids walking to school or waiting for bus, office goers, shopkeepers, other morning walkers, animals and birds too.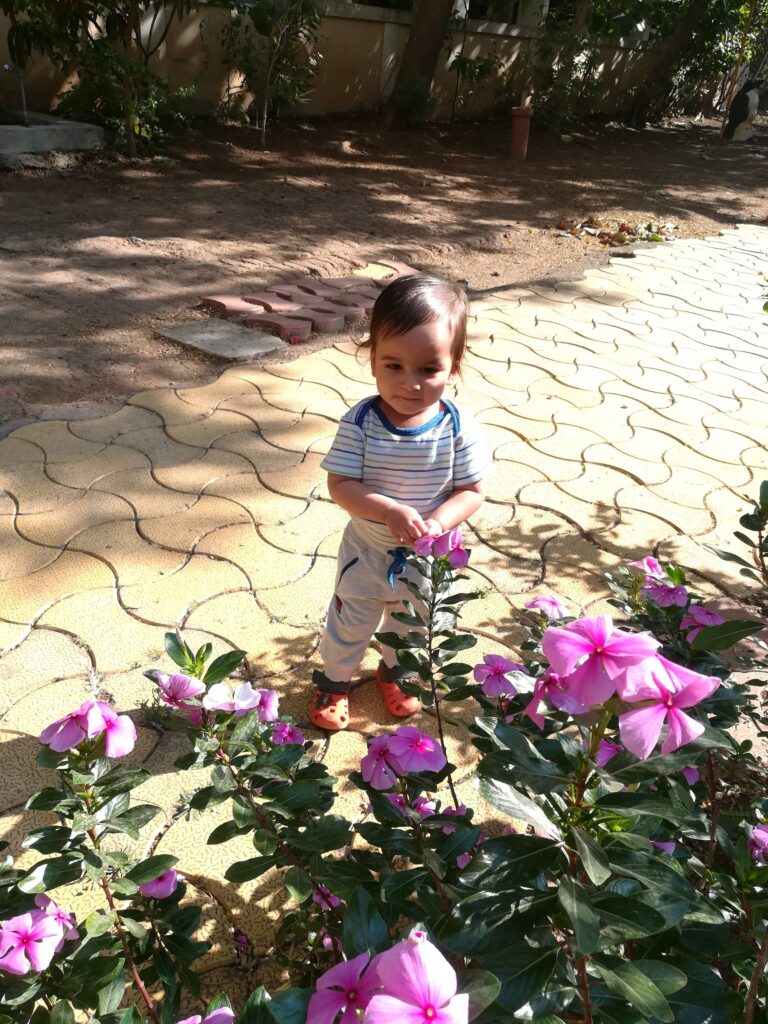 Now Penguin is becoming a social butterfly. He waves bye-bye to every passer-by, calls animals and birds, says good morning with a nod to regular faces.
Cognitive and speech development
Starting from Penguin's infancy during the walk I used to point and show everything to him with a description. Like a tree, car, bike, kids, swing, flower, everything. Like when we spot a flower I said a red colored rose or white hibiscus or a brown dog or a red car. Also, the shape of stones or pavement floor etc. Now he can recognize animals, birds, objects etc. Along with animal recognition, he responds with animal sounds. We even smell a flower or two.
It is not a secret that morning walk boosts our immune system. A day starting with a walk by outdoor (especially unpolluted nature) keeps kids calm, happy and healthy.
There are few unexpected benefits for mothers or caregivers who follow around the active kids. An active walk with kids helps to get rid of postpartum weight loss. With regular walk one would surely feel happier and lighter. And the unspoken benefit for mothers is, the boon, kids get tired and sleep giving moms few moments of much-needed "ME time".
With so many benefits of morning walk I try never to miss our morning walks, but kids are unpredictable. I have seen days when Penguin refused to walk or interact. So, I had to discover new fun ways to allure him.
FUN IDEAS TO MAKE MORNING WALK INTERESTING:
Explore a new pathway. When Penguin gets bored with same 2 – 3 path options to walk, we walk-around another block.
Take a ball to play.
Make bubbles. Always a hit!
Collect fallen flowers or pluck a few fresh ones.
Gather nature around. Twigs, rocks, sand, flowers, fallen leaves, etc
Take a book. Though one can't read and walk, yet take a break and read one. I use to take Eric Carle's book of words and match with things around.
Do a treasure hunt.
Engage in some learning activity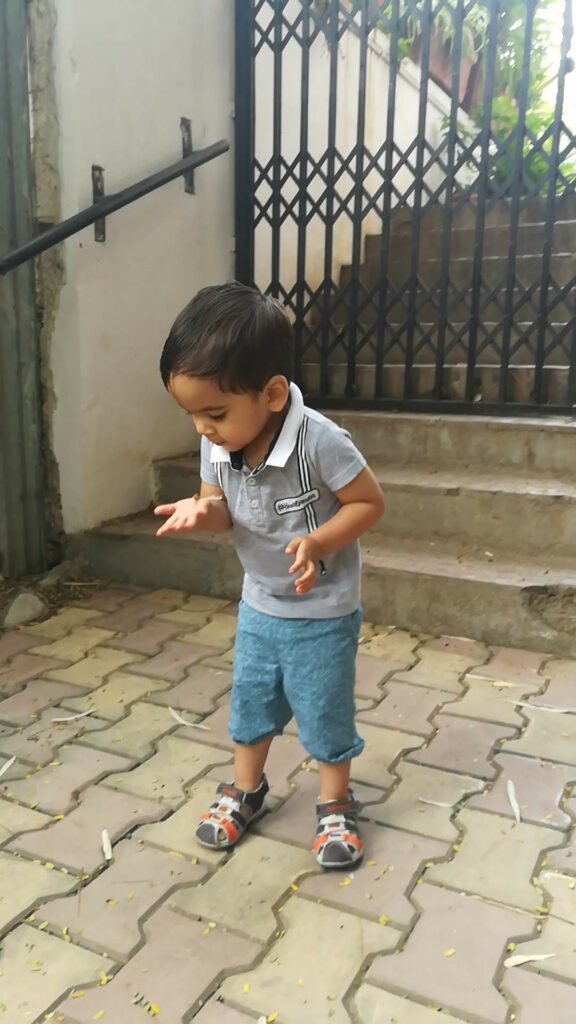 P.S. Always remember to dress the kids appropriately for the walk. Also, avoid taking kids under the harsh sun.
Are you also a morning walker? What do you do during your walks with kids? Do share your ideas.
If you like the post and wish to see more upcoming post, do follow me. We are also there on Instagram, Facebook, Twitter, and Pinterest.
This is a revamped post. You can read the original one here.