Most mothers go by the thumb's rule of "Family first". They do neglect taking care of their health to care for other members of the family. I have seen my mother toiling hard while growing up. When my child Penguin was born, I was unconsciously following the same pattern. The child comes first. Of course, they do, a newborn relies on parents, mostly mom. But what about a mom here? She had a 9 months long ordeal and post-childbirth she barely gets a breather. I remember eating way past noon for days when Penguin was an infant. Not to talk about the long nights and hours of breastfeeding sessions. I neglected my health. Repulsive reactions weren't far behind. Those headaches, self-pity, confusion… I could have saved all that trouble if only I would have loved my "ME" time the way I do today. A.K.A the "Self-care" for a new mom.
When I first heard of the self-care ideas for moms, especially a new mom, I was utterly confused. Many spoke of the spa experience, aromatic candles, bubble bath. I felt perhaps I was kicked out of the planet. How on Earth was I supposed to get that? I can't spend a bomb for a 20 minutes manicure experience. My monthly finance would be on fire considering I want to feel GOOD every day. Who would take care of the baby if I actually head out for a retail therapy alone?
 You might like - "What to gift a new mom?"   
It took me long (read years) to realize I don't even need to spend for self-care. It can be done every day.
Self-care is a necessity, not an indulgence.
What is self-care?
Self-care is loving and prioritizing yourself. It is far more than going for an extended skincare routine. Counselling Psychologist Raphailia Michael says, "Self-care is any activity that we do deliberately in order to take care of our mental, emotional, and physical health." It's a discipline.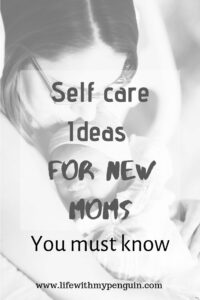 Self-care for a new mom. How?
Unwind
Relax your mind mamma. You can shut down all worries and do something you enjoy. Read a book even a couple of pages is fine. Try sketching if it helps. Anything that works for you. Knitting, Netflix, art. Your choices are open.
Ask for help and Delegate task
If you feel "in-control" on your own task, good. But lowering your standards would surely keep you charged for little longer. Ask for help or hire one, if you can. Delegate the kitchen to your partner. Laundry for a friend. An African proverb says "It takes a village". So, call in your tribe and sail. If it fits then go meet a friend or call her.
Go for a walk
Nothing refreshes more than the crisp fresh breeze, swaying trees and birds chirping. Once your doctor allows you, go for a walk. If you want, cover the baby weather-wise and take along. Absorb dose of Vitamin D. Give a stretch and take a long breath. Nature does have powers.
Be Mindful
It is natural to feel agitated with the loss of pre-baby freedom and surviving on just a few hours of sleep. A (new) mother might feel lost time and again. That's when the life-skill of mindfulness comes to picture. Mindfulness in simple words is staying present, paying attention to the particular moment.
Practice mindful eating. Even the simplest task of making the tea can be done mindfully. Plan your meals including snacks. Nourish the body. Go to bed early. Strike off the to-do list use The Eisenhower Matrix. Divide the list as immediate-urgent, important but not urgent, not important but needs attention and not important-not urgent (a.k.a can be ignored).
Be kind to yourself.
Express your emotions without judging yourself. Accept help whenever offered. Remember #2 always.
Browsing the mobile phone while breastfeeding seems attractive, right? The keyword is moderation here. Also, try turning off app notifications and remove unwanted apps (including shopping apps), you don't need to rush checking the mobile every time. Don't compare yourself with other mothers on social media.
You might like - "Five gifting ideas for an expecting mother"
What are your self-care ideas for all? Mom, not a mom, for all.